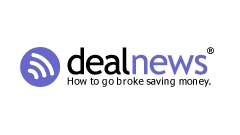 Huntsville, AL, April 21, 2005 --(
PR.com
)-- DealNews.com, Inc., a leader in web-based shopping, announced the appointment of John Allen as Director of Marketing. Allen will build on dealnews' dramatic recent growth to position the company as a premium portal for sales, discounts and bargains on consumer technology products aimed at the elusive 18-40 male market.
"dealnews' revenues are on pace to triple in three years," said Dan de Grandpre, CEO of dealnews. "We're near a point of critical mass where we can dominate the landscape of online bargain-hunting for our market segment. We're excited to have John onboard. His combination of technical know-how, marketing savvy, and industry experience comes at a critical time to our company as we develop our vision for the next three years.
Allen brings a proven ability to reshape product and refocus company efforts. Allen's experience includes 9 years as the product-marketing manager for Intergraph, taking their Networking Products from zero to over 12 million in sales and ultimately licensing those products to Microsoft. As WireSpeed Communication's VP of Sales and Marketing, Allen successfully, increased revenues from $750,000 to over $2.5 million in fewer than two years culminating with the sale of WireSpeed to Red Hat, Inc. At Aquatex Industries, Allen successfully re-branded and re-launched the company's Hydroweave fabric, signing an exclusive agreement with 3M in January 2001.
Collectively, dealnews' sites generate 1.7 million sales leads per month, up 50% from one year ago. "We have extremely good viewer retention with over 90 percent of our traffic coming from repeat visitors," said Allen. "Our readers trust us because we only publish what are genuinely the best deals available, banning unreliable vendors. My challenge is to find ways to bring new readers into our site."
About
dealnews.com
, Inc.
Relying on thousands of monthly reader submissions, expert editorial research, and proprietary automated search agents, dealnews.com reports on the best bargains that can be found on a wide range of consumer technology products, including iPods, flat-panel TVs, computers and components, DVD burners, wireless networking, gadgets, and more. Launched in 1997, dealnews' services are nationally recognized and have achieved awards and recommendations from The New York Times, PC World, Computer Shopper, The Washington Post, ZDNet, and many others. dealnews is headquartered in Huntsville, Alabama.
###