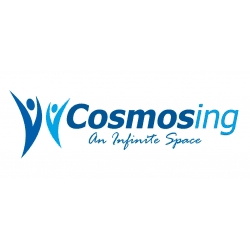 Hollywood, CA, September 25, 2007 --(
PR.com
)-- With the ever-changing audience of any social network (from traditional teens and college students to forty-something business executives), its popularity and usefulness can change drastically and quickly, meaning a popular social network of today may have little networking value for some markets tomorrow. Cosmosing (www.Cosmosing.com) is the first social network catering to all user markets, by offering a comprehensive set of social media and Web 2.0 tools which members can use independently of each other, while still maintaining a single login identity and personal area to manage their tools.
"What we do," says JC Carvill, creator of Cosmosing.com, "is make memberships at multiple social media sites unnecessary. Our members don't need to sign up for an account with a free blog host, another account with a photo hosting site, one for social bookmarking like Del.icio.us, and one to submit and rate news stories like Digg or Netscape. By becoming a member of the Cosmosing network, members can host 10,000 photos, they'll soon be able to run their own free blog, they can share their social bookmarks, and more, all from one account management area, with just one set of login details, and by having to visit only one site."
With all of the traditional social networking functions familiar to users of sites like Myspace or Facebook available at Cosmosing, it may seem like there has to be a line drawn between its viability for youth social interaction or business networking, like with other networks on the market. However, Cosmosing offers services on more of an a la carte basis to members, allowing them to use only the site features relevant to their needs, while ignoring those they don't want. For example, a professional wanting to network with colleagues can do so without having to be subjected to adolescent fads, and younger users can ignore more business-oriented tools such as blogs and social bookmarking features while still sharing photos, playing games live online with other members, and more.
"The best part about Cosmosing," says Carvill, "is that we're able to grow and integrate new tools quickly, so we can constantly adapt to the changing needs of all of our users, no matter why they use the site. The integration also makes any new tool instantly available to members without any further registration process. We don't anticipate Cosmosing to be just another small social network that will vanish from the Web in a few years. With our ability to constantly adapt the site and tools to a changing market compared to the large, often slow-to-adapt, sites in the social networking industry, we're confident that Cosmosing has the potential to be a long term social media solution for businesses and individuals alike."
About Cosmosing:
Cosmosing.com is an interactive collection of social media features designed for everyone from the most "in tune" teens to the savviest of business users. The site is working to change the traditional social networking scene by offering the widest selection of social media and Web 2.0 features from blogs to social bookmark sharing in a manner that lets users choose and use only the features appropriate for their specific needs. Cosmosing is seeking to provide entertainment, quality, news and humor in the daily lives of people all over the world, all without forcing unwanted features.
For more information about Cosmosing's blend of social media services, please visit www.Cosmosing.com or contact JC Carvill at 323-286-8717.
Contact:
JC Carvill
Cosmosing.com
PO Box 1343
Los Angeles, CA 90078
Phone: 323-286-8717
Email: press@cosmosing.com
Web: www.Cosmosing.com
###