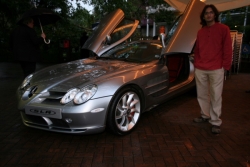 London, United Kingdom, September 26, 2007 --(
PR.com
)-- In 2007, Citywealth a leading wealth management newsletter wanted to balance its editorial on tax planning, super toy's and lifestyles of the rich and famous with a more planet and people friendly thread.
Canvassing opinion from leading wealth managers in Europe, Editor Karen Jones asked wealth managers and advisers which super rich clients and supporting administrative staff were involved with inspirational philanthropy and green efforts around Europe. Most clients wanted no publicity for their work and actively seek the shade. We hope it challenges thinking that the rich and famous are disconnected from the societies they live in and only concerned with themselves.
Philanthropy awards will be given at a Citywealth honour event on 10th October in Monaco at The Hotel de Paris. To support charitable efforts, Citywealth will also hold a charity auction with proceeds given to Outward Bound Monaco which is supported by The Duke of York and Prince Albert II.
About Citywealth's philanthropy list
Although 'new philanthropy' is the latest terminology for applying market forces to philanthropy, those listed here have been involved in
inspirational philanthropic work for decades.
Many names listed may be high profile and 'known' to the world at large but this was not the intention behind our list of inspirational names involved with philanthropy. Philanthropists rarely seek recognition, praise or publicity but despite this the names listed here have built significant respect and admiration from wealth managers and advisers for their long term energy and commitment in their philanthropic endeavors. For that reason they have been included. We also include links to their organisations to help raise funds and
profile with their respective programmes.
Citywealth as part of its mission statement promotes and assists all charitable, philanthropic efforts and appeals with vigour, harnessing contacts and resources within the global wealth management industry.
There were numerous American philanthropic organisations but this time it's Europe's turn. Citywealth will promote US philanthropy in
our Feb 2008 programme.
The Citywealth European list of inspriational philanthropists
Mrs Jamie Cooper Hohn CIFF
Mr Christopher Cooper Hohn TCI
www.ciff.org/
Sir Cliff Richard
Spotting children with potential and offering coaching and grants
Cliff Richard Tennis Foundation
www.cliffrichardtennis.org
Ms Clare Brooks
Promoting the rise of foundations that help communities
Community Foundation Network
www.communityfoundations.org.uk
Frau Dr Stephanie Schmid-Chiari
H.S.H Princess Marie-Eleonore von und zu Liechtenstein
Helping Romanian children
Concordia Austria
http://www.concordia.co.at/
Mr Stanley Fink
For donations to help build the new childrens wing at St Thomas's hospital
Evelina Childrens Trust
www.gsttcharity.org.uk
Mr Edward C Johnson
Chairman
Fidelity Foundation/ Fidelity Investments
http://www.fidelityukfoundation.org/
Sir Alan Sugar
Helping children
Great Ormond Street Hosptial;Jewish Care
http://www.gosh.nhs.uk/ http://www.jewishcare.org/
Mr Percy Barnevik UK/Sweden Microfinance initiatives.
Helping Indian children gain an education and assisting women with microfinance initiatives in a supportive environment that moves them away from debt slavery.
Hand in Hand International
http://www.handinhand.nu/
Mr Joji Hattori UK
Helping young classical musicians
Hattori Foundation
www.hattorifoundation.org.uk
Mr Robert Mirsky
Protecting children from child abuse
Hedge Funds Care, global
http://www.hedgefundscare.org/
Mr Stephen Dawson
Venture Capital help
Impetus Trust
www.impetus.org.uk/
Mr Peter Heywood
Intelligent Giving
Mr David Pitchford
www.intelligentgiving.com
Mr Ben Goldsmith
JMG Foundation/ The Manuka Club
www.manukaclub.org
Mr Jon Aisbitt UK
Mr Nigel Harris
Implementing rigorous financial and objective criteria
New Philanthropy Capital for charitable giving
http://www.philanthropycapital.org/
Mr Richard Desmond
UK Leading Anglo/Jewish charity helping children, their
Norwood families and vulnerable members of the community
http://www.norwood.org.uk/
Mr Ben Elton
Scope
www.scope.org.uk/
DK Matai Co-founder
The Philanthropia
Mr John Bender
Mr Ben Hardy
Adviser to Clarence House Helping the under 30's kick start entrepreneurship
Business development The Prince's Trust
www.princes-trust.org.uk http://www.princeofwales.gov.uk/
Tim Thornton-Jones Partner Lawrence Graham
Sir Tom Shebbeare, KCVO
Director of Charities to His Royal Highness The Prince of Wales
HRH The Princess Margarita Romania
Mr Andrew Popper
The enhancement of human potential and helping Romanian children
Romania For substantial Romanian philanthrophic efforts
Princess Margarita of Romania's Trust and Foundations
www.princeradu.ro
Dr Salvatore LaSpada
Assisting individuals /companies with philanthropic strategy
The Institute for Philanthropy www.instituteforphilanthropy.org.uk
Commended for Services to Swiss Philanthropy
Mr Leopold D'Arenberg Founder T
he Arenberg Foundation
Supporting the future of Europe
www.arenbergcenter.com
Mr Etienne Eichenberger
Mr Maurice Machenbaum
Founder/Executive Directors Wise Genève
www.wise.net
Commended for Services to Monaco; inspirational philanthropy and green efforts. Helping the Monogast Financial Sector and Monaco Global Reputation
Notable philanthropic organisations, donors, individuals and associations in the region:
H.S.H Prince Albert II
Prince Albert II Foundation for environment/sea/ Red Cross initiatives.
Also for work with Jeune of Monaco Chambre Economique de Monaco
H.S.H Prince Albert II
H.R.H Prince Andrew The Duke of York Outward Bound Monaco
The Outward Bound Monaco organisation
http://www.outwardboundmonaco.com/
The Princess Grace Foundation
http://www.fondation-psse-grace.mc/
Ms Evelyne Genta UK Consul
Trustee Maison de Monaco/Prince Albert II Foundation
Mr Lionel Schutz Trustee
Prince Albert II Foundation
Mr Jean-Paul Proust Minister of State, Monaco
Mr Jean-Claude Riey President
Grimaldi Forum Monaco
Mr Gilles Tonelli Government
Counselor for Finance and the Economy, Monaco
Dame Shirley Bassey
www.dameshirleybassey.com/
Mr Francesco Bongiovanni
CEO
CODIMA
Mr George Catsiapis
Mr William Eason
Partner
LG Legal
Ms Phillip Evans
Director
Moores Stephens Monaco
Mr Ian Gowrie Smith
Sir Philip Green
Lady Marion Hunter
Sir Tom Hunter
The Hunter Foundation Educational work in Scotland and the developing world
Mr Pierre Laffitte Founder Sophia
Antipolis Foundation and Sophia Business Angels
Mr Laurie Lewis
Sir Roger Moore
www.roger-moore.com/
Mr Gildo Pallanca Pastor
CEO
Venturi Automobiles
Dr Michael Peagram
Mr Carlo Ravano
Commodore
Yacht Club de Monaco
Mr Simon Reuben
Mr Henry Rey Notaire,
Government adviser
President Montecarlo golf club Monaco
Mr Robert Rutter
1st Vice President
Merrill Lynch
Mr Ringo Starr
www.ringostarr.com/
UK/Monaco philanthropic Expert
Mr Tim Thornton-Jones
Partner
LG Legal
Trustee
Prince Albert II Foundation
Copy and paste this link into your browser for a page turning technology version of our Platinum philanthropy and wealth guide to Europe
http://editions.pagesuite.co.uk//openpagesuite.aspx?pubid=2117
The Citywealth Platinum guide is available complimentary to journalists and is in print as well as online. Citywealth will honour these philanthropists on 10th October at the Hotel de Paris in Monte Carlo.
Citywealth is a woman owned, London publishing and events company launched in October 2005.
www.citywealthmag.com
The picture is from the May 2007 Citywealth event at London Zoo which attracted 300 leading private bankers, lawyers, accountants and rich list clients to its annual "billionaire" event. This year was an Indian Bollywood theme to celebrate the rise of the Indian entrepreneur on the world's wealth stage. Maybach and Mercedes were super car sponsors.
Citywealth Monte Carlo will be in Folies Bergere style to celebrate classic French culture.
###