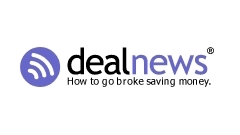 Huntsville, AL, October 30, 2002 --(
PR.com
)-- Novel Price Comparison Search Engine Fills the Gaps for Digital Camera Buyers
Bargain hunting destination dealnews today announced
dealcam.com
, the first price comparison search engine designed for digital camera shoppers looking for an honest bargain.
dealcam grew from dealnews' user requests for a new service to help them price-shop for digital cameras. Digital cameras are on track to reach 8.3 million units in 2002, a 30 percent increase from 2001, according to Dataquest Inc.
Key dealcam features include:
Quick access to the best deals on almost 400 digital cameras
Prices only from merchants that provide satisfactory customer service
Web coupons, which are provided and adjust prices automatically
Most Popular Camera and Most Megapixels Per Dollar lists
"dealcam stays in focus, so to speak, by just helping people shop for digital cameras," said Daniel de Grandpre, dealnews' co-founder and CEO. "dealcam isn't one big engine that price-shops for everything from Cuisinarts to Disney videos. It does just one thing and does it very well." dealcam's flexible, easy-to-use search tools were designed with digital camera shoppers in mind. dealcam also provides detailed pictures of the cameras themselves, key features, and even the manufacturer's own descriptions.
dealcam adds web coupons to its prices, a novel innovation. "These coupons are free and a cinch to use," said Richard Moss, dealnews' co-founder and CTO. "We spent weeks researching how people shop for digital cameras online, and we found this to be one area where the Web was a complete failure. So we made web coupons a priority for dealcam because they have a dramatic impact on prices."
If the item they want is not available at a discount, visitors to dealcam can setup an email alert that will notify them minutes after their camera falls to their specified price. dealcam also protects the privacy of its users with TRUSTe compliance.
dealcam supports both Macintosh and Windows users, offers clean, simple design with intuitive navigation and user controls, and has no banner ads, pop-up ads, "interstitials," or other annoyances.
"Plus, although there's no guarantee that you'll be satisfied with any merchant, we only list those merchants that have the fewest dissatisfied customers." said de Grandpre. "It's the opposite approach of everything else out there. We realize that this means that dealcam may never be the most comprehensive shopping tool. But at least it's honest."
About dealnews.com, Inc.
Relying on proprietary automated search agents, expert editorial research, and thousands of reader submissions each month, dealnews.com reports on the best technology bargains that can be found in a wide range of categories, including computer components, flat panel displays, CD burners, and DVDs. Sister-site dealmac.com specializes in news on the latest Mac hardware and software bargains. Three web sites — dealram.com, inkfinder.com, and dealcam.com — are the first fully-automated price comparison search engines dedicated to computer memory, inkjet printer replacement cartridges, and digital cameras, respectively. Started in 1997, dealnews' services are nationally recognized, with awards and recommendations from Computer Shopper, The New York Times, ZDNet, The Washington Post, and many others. dealnews is headquartered in Huntsville, Alabama.
###