Mighty Dwarf Announces Distribution Partnership with D&H Distributing Co.
Harrisburg, PA, January 31, 2014 --(
PR.com
)-- LAVA Imports Inc. the manufacturer of the Mighty Dwarf (http://www.mightydwarf.com) line of electronics announced that it has signed a distribution agreement with D&H Distributing (http://dandh.com), a leading North American technology distributor, to expand the company's channel reach in the small and midsize business (SMB) market. D&H will distribute the Mighty Dwarf product line in the United States.
Named for its compact size and inventive qualities, the Mighty Dwarf audio systems allow people of all ages to share music and conversation. Wires or no wires. With freedom of movement and expression of sound. Placement of a Mighty Dwarf vibration speaker turns any surface Into a speaker – that's bold and simple. The unique design harnesses vibration created in a contact surface to elevate audio to a whole new level.
"Our partnership with D&H is exciting in that we will be able to deliver our unique brand into the hands of motivated retailers of small and midsize businesses throughout the United States," says Matt Perry Director of Sales for LAVA Imports Inc., "Our successful retailer profile is one that exhibits attention to detail and a focus on personal customer service. Our products thrive in such an environment!! The interaction between the customer, the product, and the retailer adds magic to the entire in-store shopping experience."
"D&H is proud to add the Mighty Dwarf speakers to its linecard, providing a unique set of Bluetooth models to our roster of audio merchandise," said Rob Eby, vice president of sales at D&H Distributing. "It gives our retail and SMB customers an innovative choice that can help them maintain a competitive edge in assembling turn-key solutions."
D&H Distributing is a leading technology distributor of IT and electronics, offering end-to-end solutions for today's reseller and retailer and the clients they serve across the SMB and Consumer markets.
With an impressive 95-year history serving as a trusted advisor to the reseller channel, D&H has been able to consistently reinvent itself based upon changing market conditions. The company prides itself on creating business partnerships with an astute focus on ease-of-doing-business, relationships, value, performance and service.
LAVA Imports Inc. produces technology that's creative and relates to people of many varied cultures. With production facilities overseas, the company's channel includes retailers throughout North America and distributor partners worldwide.
Press contact:
Matt Perry
1 888 467 5450 x 709 www.mightydwarf.com
Contact
LAVA Imports Inc.
Matt Perry
1 888 467 5450 +709
mightydwarf.com

Contact
Multimedia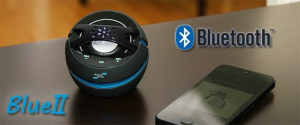 BlueII – Bluetooth Version provides the Mighty Dwarf® enthusiast a whole new sensory experience. This evolution of acoustics combines the powerful bass created by the connection with the solid surface with the clear, high tones offered by the advanced tweeter - creating awesome 360º sound!