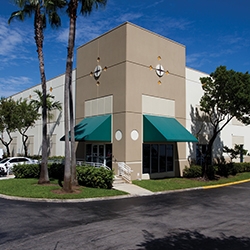 Miami, FL, February 20, 2014 --(
PR.com
)-- Cushman & Wakefield announced today that its Florida Capital Markets Group represented Principal Real Estate Investors in the sale of Westpointe Business Park, a three-building, 284,690-square-foot distribution center located in the Airport/Doral submarket in Miami, FL. Dallas, TX-based Clarion Partners purchased the Class A multi-bay industrial building.
Cushman & Wakefield's Investment Sales Team was led by Executive Director Mike Davis and included Executive Director Wayne Ramoski, Senior Director Michael Lerner, Director Rick Brugge and Senior Associate Gian Rodriguez represented Principal Real Estate Investors in the transaction. The sale price was $38,450,000 or $135 PSF.
"Investor interest for these exceptional properties was extraordinarily high with over 18 offers received," said Mike Davis. Mr. Davis went on to say, "Tenant and investor demand for quality industrial real estate in Miami remains high."
About Cushman & Wakefield
Cushman & Wakefield is the world's largest privately‐held commercial real estate services firm. The company advises and represents clients on all aspects of property occupancy and investment, and has established a preeminent position in the world's major markets, as evidenced by its frequent involvement in many of the most significant property leases, sales and management assignments. Founded in 1917, it has approximately 250 offices in 60 countries, employing more than 16,000 professionals. It offers a complete range of services for all property types, including leasing, sales and acquisitions, equity, debt and structured finance, corporate finance and investment banking, corporate services, property management, facilities management, project management, consulting and appraisal. The firm has nearly $4 billion in assets under management globally. A recognized leader in local and global real estate research, the firm publishes its market information and studies online at www.cushmanwakefield.com/knowledge.