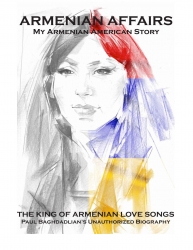 Orange County, CA, February 20, 2014 --(
PR.com
)-- In Armenian Affairs, Eileen has captured the details of her love stories. The author invites everyone into her family circle offering a fascinating glimpse of the Armenian culture and a memoir to convey her intimate love affair with the legendary icon, her adored King of Armenian love songs. Through her work, you will discover her wisdom and charm as they come to life on each page of this breathtaking story which is a fiction based largely on real events.
Eileen is a beautiful Armenian girl who at the age of eighteen emigrates from Egypt to Hollywood, California and encounters the King of Armenian love songs. It is love at first sight. They fall madly in love, but their unconditional love story is short lived when unexpectedly his family orchestrates an arranged marriage for him. Heartbroken, he attempts to reunite with Eileen, to no avail. Years later, when Eileen joyfully locates him once again, they both realize their passionate love has not subsided and decide to resume their flammable love story -- but yet again, their dream ends tragically.
"Armenian Affairs" is an unforgettable book for the world to read. The author has filled the story with love, while providing a close look at some very difficult and personal events in her life, yet delighting in those stories which build a life. A story filled with such great love is a powerful book telling an important tale in a very interesting way. This is one of those rare books that draws you in and is almost impossible to put down because you get drawn into the life of this highly touching story.
Net proceeds from the sale of the books will be used to produce the film: "Armenian Affairs."
The book can be ordered through Amazon.com and is also available on Kindle. http://www.amazon.com/Armenian-Affairs-Baghdadlians-Unauthorized-Biography/dp/0615879950.
"Armenian Affairs" is also available for sale in Los Angeles and Glendale, California, at Parseghian Photo & Records, Berj Armenian Bookstore, Abril Armenian Bookstore, Sardarabad Armenian Bookstore and Artisia.
About the Author - Born in Alexandria, Egypt, of Armenian parents, Eileen Keledjian is a professional executive assistant and an artist. In addition to writing "Armenian Affairs" inspired by her own personal experiences and her beloved's life story, she is also a producer, actor, singer, and dancer.