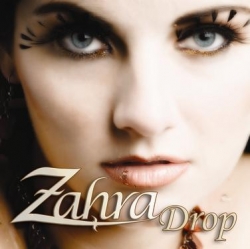 Gainesville, VA, September 30, 2007 --(
PR.com
)-- In the commercial world of pop culture today, it is rare to find a recording artist that can write, produce, play their own music, and has a voice. Zahra is breaking strong into the industry with a unique style and all of the necessary tools to back it up. Using her piano and flute skills and dynamic voice (trained classically in opera), Zahra is able to produce unique sounds using R&B beats and adding a rock/pop vibe. Her talents were noticed by the label Arusa Music Entertainment, with whom she recently signed. She will be releasing two singles this fall and her album entitled "Sense of a Woman" will be released in early 2008.
"Drop" is the first single scheduled to be released. Soon to be heard on the radio and in clubs nationwide, "Drop" is a dance track with a heavy R&B beat produced by some of the best produced in the industry, Sonny Brix, Dr. Bravo and DJ Boom. To showcase her piano/Flute/writing/producing skills, Zahra has added the heavy piano and vocal ballad "Sometimes" as a bonus track to this first single release. She will begin her radio and promotional tour in the beginning of October making several special appearances and performances up and down the East Coast.
Zahra grew up in a small town in rural Southwest Virginia. She had always been very active and involved performing in community festivals and activities. She has studied piano since a young age and continued to be trained classically in piano and voice in college. Upon moving to Washington, D.C. to pursue a Ph.D. in economics, Zahra was "discovered" in a tv commercial and was then invited to sign with the record label. Zahra is also the spokesperson of ME/ME2 Magazine
To stay updated on Zahra and to download her music visit: www.arusaentertainment.net, www.myspace.com/zahrauniverse, and www.zahrauniverse.com.
On-Spot Enterprises is a small media group composed of the record label (ARUSA Music Entertainment), the electronic billboard displays (On-Spot Billboard), the movie production company (Leon Entertainment), and the nationwide magazine (MEME2 MAGAZINE).
###
If you would like more information about this topic, or to schedule an interview with Zahra, please call Neil Mohammed at 571-235-7779 or e-mail Neil at neil.mohammed@leonentertainment.net
www.meme2magazine.com
www.leonentertainment.net