Alabama Author Kevin Cain Announces Release of New Novel "Haunts"
Alabama author Kevin Cain releases his third book, and first novel, "Haunts" a chilling tale of the supernatural based on true hauntings and actual historic events.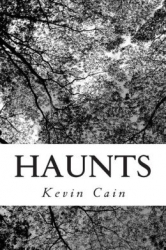 Birmingham, AL, March 07, 2014 --(
PR.com
)-- Alabama author Kevin Cain has released his first novel, a spine-tingling tale of the supernatural titled "Haunts." A native of Birmingham, Kevin grew up enjoying the charm of southern storytelling, especially the tales told by his grandmother about growing up in rural Alabama during the depression which he published in his first book "Thanksgiving Hen On A Chicken Shed" released by Crossbooks in 2013. Writing since the ripe old age of eight, Kevin published short stories and poetry in various magazines during his high school and college years. After finally releasing his first book "Thanksgiving Hen," he then turned to a darker side of his childhood in his second book by writing a collection of ghost stories he listened to while growing up in his old neighborhood in central Alabama. The book, titled "The Legends Of Indian Narrows," includes various ghostly and urban legends from the neighborhood as well as the hauntings he experienced in his own childhood home.
Kevin took a keen interest in ghost stories and the paranormal as early as childhood. Inspired by the Jeffrey "13 Ghosts" series by the late Alabama author and storyteller Kathryn Tucker Windham as well as his own childhood experiences, Kevin began to travel the southeast and collect true southern ghost stories. He traveled from South Carolina to Louisiana visiting various landmarks and historic plantations, collecting the most chilling tales he could find. In his new novel "Haunts," Kevin uses the legends of some of his favorite haunted locales in the southeast to bring together the ultimate ghost story.
"Haunts," Kevin's third book but his first novel, centers around a young college student named Marla Hollingsworth who lives each day with an incredible talent...the ability to see ghosts. Marla was seven years old when she survived the car crash that took her parents' lives. That was the day she stopped believing in God. That was also the day she gained a special ability to see spirits. Now a college student, Marla becomes the newest member of the southeastern ghost-hunting society called SPA (Students of Paranormal Activity). As the group visits haunted locations across the south, the investigations intensify and Marla finds herself stalked by a force that is evil beyond imagination. To beat it, she must fight a war against her own anger and fear before that evil has a chance to win over her special power...and her soul.
Some of the places Kevin draws on for the inspiration of these stories are Myrtles Plantation, a historic bed & breakfast located in St. Francisville, LA, and listed as the most haunted home in America, and the infamous Sloss Furnace located in his own home town in Birmingham, AL. Scenes throughout the novel actually take place at these real-life haunted locations. "The stories I have heard in these places and used for my novel are wonderful stories from the old south," Kevin said. "They are a part of our history and oral tradition, and I only hope I did them justice."
In the past year, aside from publishing three books, Kevin has become somewhat of a haunted collector as well. Some of the items he has collected include a Victorian painting haunted by the woman who was the subject of the painting and three porcelain dolls that are haunted by three very lovely little ghost girls who love to make their presences known in his home. "They are very amazing little girls who sometimes love to tug on my shirt or pet my arm. Sometimes they cause the lights to flicker or the bathroom sink to come on by itself. I have captured their voices on digital recording. It is really amazing and I believe would convince the biggest skeptic." One of the spirits, a seven year old girl named Patty who once owned one of the dolls now in Kevin's possession, is the subject of his next novel "Patty Doll" which he hopes to release in late 2014.
"Haunts," published by CreateSpace Independent Publishers, is now available at Amazon.com, Barnes & Noble, Books A Million and other fine book retailers. It is also available on Kindle.
Contact
Kevin Cain
205-215-2242
www.kevincain.webs.com

Contact