Get Rewarded for Joining New College Based Social Network
BuddyUniversity.com Launches New Social Networking Site for College Students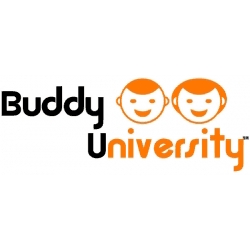 Fishers, IN, October 03, 2007 --(
PR.com
)-- Existing social networks like MySpace and Facebook have now geared up for the masses by offering their site for everyone. However, recent studies are showing that college students are specifically yearning for the days of old where only those with an .edu email are allowed to join. This closed environment provides a higher level of security by allowing members to contact, and be contacted, by only those who match their own demographics.
Students now have a home on the Internet that provides this "closed garden" with the newest social site launched this month in Beta called BuddyUniversity.com (
www.BuddyUniversity.com
). BuddyU provides a single gathering joint for students to use for blogging, posting pictures, videos and music, social networking, campus news, and a bookstore where they can buy and sell books at discounted rates. What makes this site even more enjoyable and unique is that students can earn Reward Points for doing what they already do. Once the Student has collected enough Points, they can then visit the Reward Mall and redeem them for cool stuff such as Xboxes, iPhones, BuddyUniversity gear, Prepaid Gift Cards and even Spring Break trips.
"Everyone is on Facebook but it is getting harder to enjoy the site with all of the clutter and having strangers trying to be my friend," said Mary LeRose, a student at the University of New Hampshire University and BuddyUniversity.com member. "I now can earn pizza gift cards and iPods by simply doing the stuff I already do on a daily basis. I'll always have my Facebook account, but I want my friends to join BuddyU because of the closed network. BuddyUniversity is a refreshing alternative."
"BuddyUniversity.com is the first social network geared towards students allowing them to earn merchandise while providing a new internet paradigm of the semantic web," said Terry Ballantini, President/CEO of BuddyUniversity.com. "We are committed in providing a combination of content, community, commerce, fun, news and personalization."
About BuddyUniversity.com
BuddyUniversity.com is a web-based social network portal that is intended only for college students with an .edu email. BuddyUniversity.com provides an integrated community that incorporates personalized social networking, a bookstore, college news, Reward Points, classifieds, and forums for our target market. For more information regarding the company, please visit
http://www.buddyuniversity.com
.
Safe Harbor Statement:
This news release contains certain forward-looking statements pertaining to future anticipated projected plans, performance and developments, as well as other statements of historical fact that may be considered to be forward- looking statements. Written words such as "may," "will," "expect," "believe," "anticipate," "estimate," "intends," "goal," "objective," "seek," "attempt," or variations of these or similar words, identify forward-looking statements. These statements by their nature are estimates of future results only and involve substantial risks and uncertainties, including those detailed from time to time.
###
Contact
BuddyUniversity.com
Erica Wanous
317-915-2008
www.BuddyUniversity.com
317-915-2009 fax

Contact