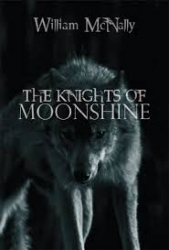 Atlanta, GA, March 18, 2014 --(
PR.com
)-- A pickup truck, ammunition, and plenty of liquor: it was shaping up to be a normal weekend hunting trip for the three town losers. However, what Dennis (the washed up former athlete), Ernie (the good-hearted, dumb one), and Harley (the drunken wildcard) don't know is that their lives are about to change forever. In William McNally's "The Knights of Moonshine," all it takes is a wolf bite to rock the lives of three ne'er-do-wells and introduce them to a dangerous reality they never knew existed.
Dennis, Ernie, and Harley spend all their weekends in much the same way, whiling away the time at a remote hunting lodge, getting wasted, and perhaps getting some hunting done (but more likely shooting at road signs). When the liquor runs out, they'll make their way back to town with little to no memory of the previous couple days. However, when out-of-control Harley performs a crazy stunt, he gets far more than he bargained for and the group will find their lives turned around for good.
There's a world lurking just out of sight, and its strange inhabitants include immortal biker gangs and a threat even more frightening than a dysfunctional clan of werewolves. As the three friends become more intimate will all the dangers of the forest, they are forced to choose between the world they've always known, where they're seen as outcasts, and the crazy new reality that feels strangely like home. Harley's drunken antics make it clear that seemingly insignificant events can be weighted with fate as William McNally spins his tale of three losers who find an unlikely place in the world. The Knights of Moonshine is a dark and absorbing story about the allure of having somewhere to call home, no matter what the cost.
About Will McNally
After a career as an executive, William McNally now lives with his wife in the mountains surrounding Dahlonega, Georgia. His first two books, Four Corners Dark and Beneath the Veil were inspired by his interest in dark and thought-provoking tales. The Knights of Moonshine, however, grew out of a visit to an eerie motorcycle shop in a remote area. McNally, who found himself surrounded by a veritable museum of odd pieces of motorized history, was left wondering about the shop's customers and any secrets they might hide and used his musings for the foundation of the book.
For more information, please visit http://williammcnallybooks.com/.
To read William McNally's blog, please visit http://williammcnallybooks.com/blog