Polaris Propulsion Labs Receives Chilean Vendor Approval at FIDAE, While Releasing the TJ-200 a Small Turbojet Engine for Use in Small Missiles and Drones
Polaris Propulsion Labs receives accredited vendor status with Chilean military at FIDAE trade show today as it showcased its latest product the TJ-200 a small turbojet engine for use in small missiles, and drones.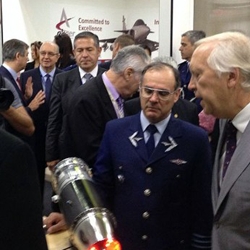 Washington, DC, March 26, 2014 --(
PR.com
)-- Miami based Polaris Propulsion Labs announced today the release of its new TJ-200 Turbojet engine at FIDAE exhibition in Chile.
Shortly after opening ceremony of FIDAE 2014 which featured the presence of Chile's President Mr. Michelle Bachelet. The Chilean Minister of Defense Mr. Jorge Burgos visited the stand of Polaris Propulsion Labs, where he was received by the executives of Polaris Propulsion Labs, where he was able to see first hand the TJ-200 turbojet engine manufactured in Brazil by Polaris Propulsion Labs.
"The TJ-200 is specifically designed for use in small missiles, drones and aerial targets. Our twin-blade turbojet engine technology is perfect for these military applications, and this show is the perfect place to showcase the product," said Maurice Lopes the company's CEO.
Polaris Propulsion Labs was also formally accredited, and received the certificate of registration of vendors to the Chilean Military. Polaris Propulsion Labs met all the requirements under the rules of special register of material providers for the country's defense program.
Contact
Polaris Propulsion Labs
William Bowley
1-305-424-1311
http://www.PolarisPropulsion.com
U.S. Corporate Offices
261 NE 1st Street - 5th Floor
Miami, FL 33132
Latin America
Ave. Shishima Hifumi 2911
Sao Jose dos Campos SP Brazil

Contact