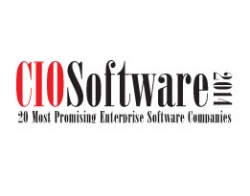 Palo Alto, CA, April 02, 2014 --(
PR.com
)--
Capriza
announced today that it has been selected as one of the "20 Most Promising Enterprise Software Companies" of 2014 by CIOReview Magazine. A technology-oriented magazine that focuses on innovative solutions to guide enterprises, CIOReview researches various segments of enterprise technology and designates some of the top players capable of transforming the industry.
About the 20 Most Promising Enterprise Software Companies List
The list is a benchmark for customers and is intended to aid enterprise technology decision makers in the selection process of service providers across various segments of the software industry. A distinguished panel comprising of CEOs, CIOs, analysts, and the CIOReview editorial board selected the companies that made the list.
"We are honored and very excited to have been selected as one of CIOReview's 20 Most Promising Enterprise Software Companies for this year. Capriza radically disrupts the speed and economics associated with taking businesses mobile," said Yuval Scarlat, Capriza CEO, "and I am very humbled and appreciative to see CIOReview's recognition of our solution." Scarlat added, "Businesses are challenged today with a big dilemma. They have invested billions of dollars over the years, developing, configuring, and deploying business applications. The nature of information consumption has dramatically changed with customers, partners and employees rushing to perform business processes on mobile devices vs. desktops, and all that investment does not work on the modern mobile devices. Instead of undergoing massive re-development of all existing applications, we offer a solution at a fraction of the cost and time while leaning on existing skills available within most companies."
Capriza's end-to-end enterprise mobility platform enables IT and lines of business to select the most business-critical workflows and transform them to mobility in a matter of days. The solution is applicable for packaged applications such as SAP, Oracle, Salesforce as well as custom built ones. Capriza extends these applications to provide mobile apps in a simplified and beautiful way across any mobile device.
For more information and to see all of the companies named in the CIOReview Magazine 20 Most Promising Enterprise Software Companies list, please visit
http://www.cioreview.com/magazine/20-Most-Promising-Enterprise-Software-Companies-DTND111100904.html
About Capriza
Capriza was founded in 2011 by former executives from Mercury Interactive. Capriza disrupts the speed and economics associated with taking your business mobile. Capriza's SaaS platform mobilizes your critical business processes with zero coding and zero APIs. This week. Capriza is headquartered in Palo Alto, CA and funded by Andreessen Horowitz and Charles River Ventures.
For more information:
Elaine Zelby – elaine.zelby@capriza.com - (650) 600-3661 – www.capriza.com
About CIOReview
Published from Fremont, California, CIOReview is a showcase of innovative enterprise technology solutions. The CIOReview platform gives high-level enterprise executives a heads up on innovative solutions that startups are providing, insights into IT trends and more, providing information to help achieve business goals.