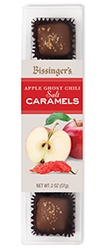 Saint Louis, MO, April 14, 2014 --(
PR.com
)-- Over 2,025 Entries Were Submitted in the 42nd Year of the Specialty Food Association's Renowned Annual Contest
After months of tasting, testing and deliberating among thousands of the latest and finest culinary creations, a national panel of food experts and judges awarded Bissinger's Apple Ghost Chili Salt Caramel as a finalist. The long-standing, industry-revered contest is a coveted honor and the panel of experts included those highly-regarded in the gourmet food industry including Fresh Direct, Whole Foods Market, the Wall Street Journal and Coopers Hawk Restaurant & Winery to name a few.
"It is gratifying to see this labor of love come to fruition," said Chief Chocolatier Dave Owens. Over two years in the making, this daring and innovative confection evolved as a natural progression in the company's popular Salt Caramel Collection that includes five additional varieties featuring unique flavors crafted in small, artisanal batches. "Discovering the intriguing nuances of fruit and heat is a very pleasing and gratifying palate exploration."
The confection's modern combination showcases the daring taste of tangy apple caramel topped with a dusting of warm and spicy ghost chili sea salt. "The spectrum of flavors are a delight for those who like it hot," said Owens, "but are not too intense for everyday chocolate lovers." The fiery chili's slow, smooth heat is tempered by the juicy crisp green apple caramel and the soothing creaminess of rich chocolate. The harmonious flavors of apple and caramel serve in beautiful contrast with the sparing use of ghost peppers, some of the hottest in the world, and satisfyingly savory sea salt.
While the piece is outstanding on its own, Owens says that pairing it with different wine combinations has become increasingly popular and elevates the Apple Ghost Chili Salt Caramel to an even higher level. "It is the ultimate of bridging the gap between sweet and heat," he said. "At first bite you taste the smooth warmth of the chili, then the juicy tart green apple rushes forward, and finally the creaminess of the caramel and chocolate culminates transporting all the flavors in harmonious balance. "It's all about enjoyment, slowing down and really savoring the experience."
In response to the significant increase in chocolate and wine pairing events, Bissinger's has developed a Chocolate & Wine Pairing Collection which includes Merlot Salt Caramels, Chardonnay Salt Caramels, Murray River Salt Caramels, Pear Balsamic and Maple Bacon Salt Caramels.
Bissinger's international business spans retail, wholesale and catalog sectors. Their giftable collections can be found at larger, national stores such as Whole Foods Market and Neiman Marcus, as well as smaller, high-end specialty retailers in local markets.
"We strive to craft innovative confections and are grateful to be carrying on the legacy that was started by the Bissinger family in Paris centuries ago," said President Tim Fogerty. "Bissinger's remains committed to the high standards, heritage and the passionate attention to detail that goes into every piece we craft."
About Bissinger's: Granted the title of "Confiseur Imperial" in honor of confectionery excellence in 17th Century France, Bissinger's has been crafting fine confections sourcing premium ingredients ever since. We are committed to crafting high-quality, healthful confections sourcing all-natural ingredients with social and environmental sustainability. To learn more, visit www.bissingers.com.
Contact: Rosemary Sturm,
314-615-2432; rosemary@bissingers.com