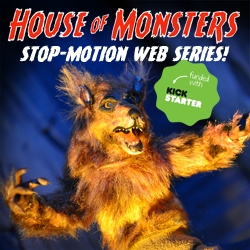 Los Angeles, CA, April 21, 2014 --(
PR.com
)-- Even the crankiest monsters were all smiles last Thursday morning, as the Kickstarter campaign for House of Monsters hit it's $20,000 funding goal. The funds will be used to produce two more House of Monsters short films, building on the characters and the world created in the 2012 short film of the same name.
House of Monsters is a throwback to the classic Rankin/Bass holiday specials like Rudolph the Red Nosed Reindeer and Mad Monster Party. House of Monsters is created by Dawn Brown, a successful Hollywood concept artist, whose credits include Alice in Wonderland, Pirates of the Caribbean: On Stranger Tides, and The Hunger Games movies. Eager to move behind the camera and start telling stories of her own, Brown turned to Kickstarter to launch her project.
"Kickstarter was a great fit for us," says Brown. "We are a small group of artists looking for a platform to not only raise funding, but to bring awareness to House of Monsters and prove there is an interest in what we have to offer." In addition to producing new shorts, Brown promises to bring all campaign backers along for the ride behind the scenes. "We want to include the fans in the process of making these short films. We're creating art and community. There's something of real value about sharing this experience."
House of Monsters follows mummies, werewolves, vampires and friends through their adventures in an ominous castle and it's neighboring village. The series is currently in pre-production and will shoot this summer. The series will be distributed through various digital platforms like Amazon Instant Video and VHX early next year.
There's more House of Monsters, including concept art and character designs on their website. www.houseofmonstersmovie.com
About The Monster Shop, Inc.
The House of Monsters web series is the inaugural project for the newly launched studio, The Monster Shop, Inc. The Monster Shop is a full service production studio that specializes in stop-motion animation, character design, and production design. Founded by Hollywood concept artist Dawn Brown, the studio provides creative services for all avenues of entertainment including feature films, short films, television, new media, video games, toys and comics.