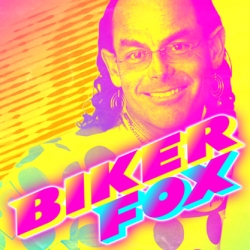 Tulsa, OK, May 02, 2014 --(
PR.com
)-- Unintentional celebrity Frank P. DeLarzelere III aka Biker Fox now has his own movie.
Biker Fox, now on VOD, is a unique, hilarious, provocative documentary - tipped to become a cult classic/midnight movie fave, along the lines of Tim & Eric Awesome Show, Jackass, Grizzly Man and the films of Harmony Korine.
The movie chronicles the adventures of underdog Frank P. DeLarzelere III aka Biker Fox, Tulsa, Oklahoma's misunderstood motivational bicyclist, nature conservationist and muscle car guru.
Part-documentary and part-self-help testimonial, the film navigates the uneasy relationships DeLarzelere has with both the city of Tulsa and himself, as his Biker Fox character's intentions of spirited goodwill sometimes neglect certain boundaries.
Biker Fox appeared as a guest on MTV's popular show Ridiculousness.
Jeremy Lamberton makes his feature directorial debut on Biker Fox. Pic is produced by Lamberton and Todd Lincoln, writer/director of The Apparition (Warner Bros) starring Ashley Greene (Twilight) and Sebastian Stan (Captain America: The Winter Soldier). Together, they also co-founded and co-directed the Tulsa Overground Film Festival.
Biker Fox is out on VOD from all major digital outlets, including iTunes, Amazon Instant Video, Vudu, Google Play, YouTube and Xbox.
Producer, Todd Lincoln is repped by Craig Gering at CAA.
www.bikerfoxthemovie.com