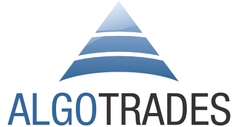 Collingwood, Canada, May 13, 2014 --(
PR.com
)-- The AlgoTrades Systems new
quantitative trading
system seems to be a big hit with investors looking for a piece of the action that up until recently only private equity firms, hedge funds, and the wealthy have had access to. The firm said today that the
quant investing
System for ETF's is oversubscribed.
The system, which launched on Feb 14th 2014, has already filled 99% of its capacity and is planning to start a waiting list to fill the remaining seats and to offer seats that become available on a first come first serve basis. They do have an ES mini
futures trading system
available for the more aggressive investors.
The investment strategy has been traded manually by the creator Chris Vermeulen for the past seven years and was converted into an automated investing system in 2013. It invests in the S&P 500 index though the use of exchange traded funds.
Most of the time the automated investing system keeps the client's investment capital in cash. The high probability trading strategies used are geared toward minimizing market exposure and taking long/short positions only when a high probability of winning has been identified.
"This is an automated investing system that provides investors with an opportunity to invest alongside the founder, capitalizing on my entrepreneurial investment approach, trading strategies, money management skills and experience," stated Chris Vermeulen, AlgoTrades CEO.
The hybrid automated investing service charges and annual fee of $3,999 for access to the automatic investing system. $50,000 minimum investment capital is required.
About Technical Traders Ltd.:
AlgoTrades Systems, which is a wholly owned subsidiary of Technical Traders Ltd., was established in 2008 and offers a range of investment and swing trade alert newsletters.
This quantitative trading system company, offers investors an unique opportunity to participate in a leading company in the business of
quantitative investing
, low frequency trading systems "LFT," for a 100% hands free investing experience.