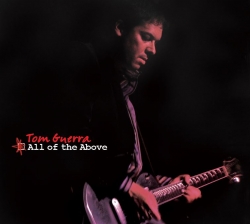 Hartford, CT, May 21, 2014 --(
PR.com
)-- With the release of "All of the Above," guitarist Tom Guerra (Mambo Sons / Vintage Guitar magazine) proves that rock and roll is alive and well. Featuring 11 3 minute cuts, "All of the Above" contains an eclectic mix of guitar based music, including electric and acoustic rock, glam, funk and pure rock and roll.
Songs contained on the cd include:
1. Get Offa My Groove
2. Simple Song
3. Dirty Son
4. Here's Tomorrow
5. Queen of the Autumn Moon
6. Cup of Tea
7. Indian
8. Refrigerator Blues
9. Frankenstein Boots
10. Down on the Turnpike
11. Love Comes to Us All (a message of hope for all touched by Sandy Hook, written in the hours following it).
"All of the Above" is available for immediate sale and can be found on iTunes, CDBaby and
www.TomGuerra.com