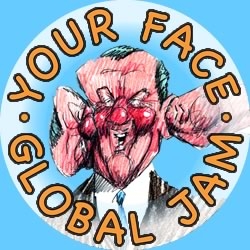 Los Angeles, CA, May 24, 2014 --(
PR.com
)-- Nomination submissions are now open at YourFaceGlobalJam.com for International animators to interpret a portion of 'Your Face' - Bill Plympton's 1987 Oscar-Nominated short film.
'Your Face' features a hand-drawn figure singing Maureen McElheron's title song (available on iTunes) while undergoing surreal transformations in what has become Plympton's signature style.
Additionally, from the approved nomination pool, Plympton will honor one animator with the "Plympton Award for Indie Animation," previously awarded to Jim Lujan of Jim Lujan Studios [2013] and Danny Madden of Ornana Films [2012]. This year's winner will be announced at San Diego Comic-Con 2014, which runs from July 24 - 27.
Applications for 'Your Face Global Jam' will close the week after Comic-Con on August 8, 2014. Animators, approved by director and curator Ken Mora, will be assigned a random three seconds of the original 'Your Face.' Also, an independent music artist will create an additional composition for animators to interpret. That Independent recording artist will be announced prior Comic-Con.
Participation is free and open to all, and final accepted animators will be credited and have profiles on the official website. Participants will also be provided publicity and interview opportunities as Your Face Global Jam tours with Plympton on the International film festival circuit.
In the likely event that the number of entries exceeds the number required, peer participants and fans will then vote to select the "official mix" for the film fest circuit. In addition the new composition may itself spawn a music video for added exposure.
Your Face Global Jam expands on Plympton's wildly successful 'Guard Dog Global Jam' in which 70 animators from nearly 20 countries interpreted a section of his second Oscar-Nominated short 'Guard Dog.' That Jam went on to screen at over 35 festivals world-wide and won awards at ASIFA-East Festival, Videofest 25, and Worldfest Houston, as well as being featured at South by Southwest Film Festival.
'Your Face Global Jam' is a Bella Fe Films and Bill Plympton Studios production set to premiere in the year 2015.
Fans of the project and Indie animation in general are invited to drop by the unofficial "Animators Alley" at San Diego Comic-Con 2014, book-ended by Bella Fe Films booth #1532 and Bill Plympton's booth #1537. "Animators Alley" also hosts the booths of Animation Magazine, ASIFA-Hollywood, and Spike & Mike's Festival of Animation.