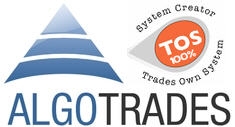 Collingwood, Canada, May 22, 2014 --(
PR.com
)-- The AlgoTrades
algorithmic trading system
has been a huge success among individual investors because they can get a piece of the action that until recently only hedge funds, private equity firms, and the wealthy has had access to. The firm said today that its algorithmic trading system has earned the TOS certification (Trades Own System) from
Collective2
. This well-respected third party company tracks automated trading systems, their performance and even knows if the creator of a system is trading the system with their own capital.
Collective2 which is a certification company that tracks over 75,000 registered algorithmic traders and 323 active futures trading systems has given AlgoTrades the TOS certification. Only 4 futures systems have earned the TOS certification out of the 323 systems available on the market today.
"Collective2 is the leader in the algorithmic trading system industry and AlgoTrades is striving to become the leader in algorithmic trading systems for individual investors," stated Chris Vermeulen, AlgoTrades CEO.
The investment strategy has been traded manually by the creator Chris Vermeulen for the past seven years and was converted into an automated investing system in 2013. It invests in the S&P 500 index futures known as the ES Mini.
Usually the automated investing system keeps the client's investment capital in cash. The
high probability trading strategies
used are geared toward minimizing market exposure and taking positions only when a high probability of winning has been identified.
"This is an automated algorithmic investing system that provides investors with an opportunity to invest alongside the founder, capitalizing on my entrepreneurial investment approach, trading strategies, money management skills and experience," stated Chris Vermeulen.
AlgoTrades charges a fee of $2,499 for access to the automatic investing system. $35,000 minimum investment capital is required.
About Technical Traders Ltd.:
AlgoTrades Systems, which is a wholly owned subsidiary of Technical Traders Ltd., was established in 2008 and offers a range of investment and swing trade alert newsletters.
This company, offers investors an unique opportunity to participate with a leader in the algorithmic trading systems though its low frequency trading systems "LFT," and for a 100% hands free investing experience.