Arizona Wines to be Distributed in Australia
Arizona winemaker Sam Pillsbury's Shiraz wines distributed in Australia.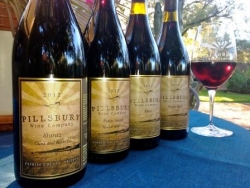 Willcox, AZ, May 27, 2014 --(
PR.com
)-- Pillsbury Wine Company has reached a preliminary distribution deal with Decante This, a small niche wine distributor in Australia, founded by Leigh Dryden. He will be working the market down under with samples of Pillsbury wines, made in Arizona.
According to the Australian industry publication, The Shout, Decante This has earned a stellar reputation among Australian sommeliers and specialty retailers for showcasing interesting, hard-to-find wines. Several of Pillsbury's Shiraz-based wines will be the distributor's first North American wines in their portfolio.
"My grapes were harvested from Aussie clone Shiraz vines. Talk about taking the coals to Newcastle," said Arizona winemaker Sam Pillsbury. "This is a bit like taking their grapes and showing them how we can produce even more amazing wines in Arizona."
Pillsbury, a New Zealand film director and producer, planted his first vines on the Willcox Bench in 2000.
"Our high-desert vineyard at 4300 feet provides growing conditions similar to those in the Rhone Valley. The high altitude moderates the hot Arizona sun with super cool nights and extra UV, which significantly affects the aroma, color, flavor, and healthy polyphenols," he said.
The winemaker explained that he makes wines to accompany foods, attempting to achieve nuance and complexity, rather than producing "jammy fruit bombs," as he called them.
Pillsbury Wine Company self-distributes its wines, which Arizona wineries are permitted to do by law.
Pillsbury said, "Most Arizona wineries use local distributors, and that's fine. But I like the personal contact we enjoy with our clients. Each one of our team has intimate knowledge of how our wines are made—all are involved in the planting, pruning, harvesting, blending, and bottling. Since our grapes are 100-percent local, we've developed a sort of intimacy with our market that I want to retain."
Sam Pillsbury gambled that the high altitude, endless sunshine, sandy loam, and dry desert would make for a perfect terroir. In 2000, he planted 20 acres of Rhone varieties in Cochise County. Today, he has 30 planted acres of Syrah, Mourvedre, Grenache, Petite Sirah, Viognier, Malvasia, Chardonnay, Pinot Grigio, Symphony, Roussanne, and Chenin Blanc, and produces more than 3,000 cases of wine annually. A winery production facility is slated for construction on the 100-acre property this summer. www.pillsburywine.com
Contact
Pillsbury Wine Company
Sam Pillsbury
310-508-3348
www.pillsburywine.com

Contact