Author J. Newman Delivers a Noir for a New Generation with Upcoming Release of "Darkest Vow"
Brand new ebook that brings the class 1940s detective noir genre to a new generation. "Darkest Vow" by J. Newman is a thriller not to be missed.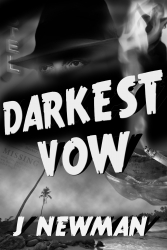 Glen Burnie, MD, June 06, 2014 --(
PR.com
)-- J. Newman, author Ghost of a Chance and the upcoming Ebook release, "Darkest Vow," is bringing back the classic Noir genre to a new generation.
"Darkest Vow" features Detective Joseph Riley recounting a case that has ultimately changed his life. It's 1942 and as the United States prepares for war Joseph Riley finds himself unprepared for his new client, Alexis Santorum, and her seemingly straightforward predicament. In this story the quintessential 1940's shamus must navigate twists and turns in order to untangle the sinister web of deception. Will he be able to discover just what is at the core of the case's darkest vow of truth?
Building on his passion for the Film Noirs of the 1940s J. Newman channels the spirit of those great stories and their authors to deliver this mesmerizing tale. Even though this Ebook release is a departure from the genre that garnered success for his previous novel, "Ghost of a Chance," the powerful story telling is still prominent page after page.
Available on Amazon, iTunes, Google Play, and Barnes and Noble June 11th.
Contact
J. Newman
Jeff Newman
410-969-7025
jnewmanbooks.com

Contact