Rapise Express Free Web Testing Tool Released
Inflectra is pleased to announce the release of Rapise Express a free test automation system for quickly and easily testing web applications and web APIs without needing to hand-write test scripts. Rapise Express makes web testing rapid and easy.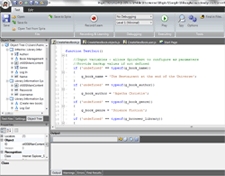 Silver Spring, MD, June 13, 2014 --(
PR.com
)-- Based on the powerful Rapise test automation platform, Rapise Express is a free version of the powerful Rapise testing system designed for individuals, educational institutions, non-profits, and charities. Rapise Express is the easiest and fastest way to do cross-browser testing. It is ideal for agile software projects.
Rapise Express provides the following key features for web application testing:
Learn and Go functionality for rapidly creating test scripts.
Keyword and data-driven testing using MS-Excel spreadsheets.
Powerful integrated reporting capabilities.
Integrates with SpiraTest for test management.
Easy extensibility using Javascript.
Cross-browser testing with IE, Firefox and Chrome.
Support for web service testing.
Support for Web frameworks such as GWT, YUI, jQuery, and Flex.
The desire behind the release of Rapise Express is to give individuals and other users the same powerful test automation capabilities that Rapise is already providing for companies and businesses.
About Rapise
Rapise is a next generation software test automation tool that leverages the power of open architecture to improve application quality and reduce time to market.
Using advanced technology and an extensible architecture, Rapise can handle your software application and cross-browser testing needs.
About SpiraTest
SpiraTest® is a powerful Requirements and Test Management solution that manages a software project's requirements, scope, use-cases, tests, releases and bugs and issues in one environment, with complete requirements traceability throughout. Customers can track every bug or issue back to the test case and test step that being executed, and from there back to the underlying requirement needing fulfillment.
About Inflectra®
Inflectra® is a privately held software company dedicated to helping its customers - large corporations, small businesses, professional services firms, government agencies and individual developers – with the means to effectively and affordably manage their software development lifecycles, so as to decrease the time to market and increase return on investment.
Inflectra® is currently headquartered in the growing technology community of Silver Spring, Maryland located just outside Washington, D.C.
Inflectra®, SpiraTest®, Rapise® and Rapise Express™ are either trademarks or registered trademarks of Inflectra Corporation.
Contact
Inflectra Corporation
Tara Long
+1 202-558-6885
www.inflectra.com

Contact