Former Military Headquarters Now an Attractive Real Estate Investment
Multi-tenant office building, once part of the Benicia Arsenal, solicits bids in online real estate auction.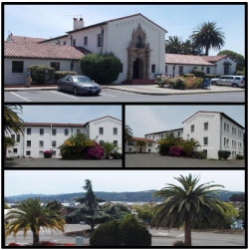 Benicia, CA, June 20, 2014 --(
PR.com
)-- Built in the 1940s, the historic office building located at 1350 Hayes Street in Benicia, a water's edge town in the San Francisco Bay area, is the focus of many interested buyers in an online auction. The newest property featured on LFC's real estate auction website, Freedom Realty Exchange (FRE.com), has already garnered significant buyer interest.
Before the area was revitalized into a vibrant cultural district for artists and a popular visitor destination, the Benicia Arsenal was the primary U.S. Army Ordnance for the West Coast of the United States for over 100 years. It was the staging area during the Civil War for Union troops and later became the main West Coast administrative headquarters for the U.S. Navy before it was deactivated as a military installation in 1963. Now this scenic waterfront area, so rich in history, offers an internationally recognized arts district, top-notch shopping and dining, and a thriving business community.
"The history of this building, with its beautiful Spanish architecture, is intriguing, but it's the investment opportunity that is most compelling to buyers," states Kelly Lovegrove, director of marketing for the auction company. "A property such as this one, almost fully leased in a desirable location, is a prime candidate for an online auction that will attract buyers globally and provide a convenient platform for them to participate in the bidding."
Property Details
· ±22,000 square foot building on approx. 1.5 acres
· Convenient access to major highways – I-780, I-680, I-80
· Suites ranging from 108 SF to 2,200 SF
· 95% leased and occupied
· 16.5% Cap Rate (based upon minimum bid)
· One mile from downtown Benicia, less than 15 miles from Walnut Creek, and less than 40 miles from San Francisco
Auction Details
· Minimum bid $899,000
· Bid deadline July 31, 2014
Specific property documents, additional photos and auction information such as terms and conditions of sale can be downloaded by visiting the auction property page on www.FRE.com/174R3
Contact
Freedom Realty Exchange
Kelly Lovegrove
949-706-6113
www.FRE.com

Contact