Eldon J. Brunner Has Recently Been Recognized by America's Registry of Outstanding Professionals
Eldon J. Brunner of Reddick, Illinois has been recognized by America's Registry of Outstanding Professionals for his contributions and achievements as "A Legend in the Nuclear Power Industry" for 2013 and he has been selected as Industry Leader of the Month for both April and May 2014. Most recently, he has been recognized as a member of the America's Honor Roll for 2015.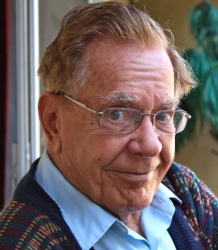 Farmingdale, NY, June 28, 2014 --(
PR.com
)-- Eldon J. Brunner was born in Reddick, Illinois. He is currently the Branch Chief for the US Federal Government. Mr. Brunner earned his M.S. at the University of Illinois. His illustrious career dates back to 1950 through 1953 at the University of Illinois where he was a Flight Instructor and Charter Pilot. He was a Research Assistant under a US Army Contract to develop flight training methods for reducing airplane and Helicopter pilot training time, 1953. After that, he was an Aircraft Engineer, Convair Fort Worth, Texas Author of B-58 flight training Flight Simulator and B-58 Navigator training Simulator 1954-55. His professional life continued as a Nuclear Reactor Operator/Engineer for Convair, FT Worth, promoted to Supervisor/Manager of the Aircraft Nuclear Power facility 1956 - 1964; Operations Supervisor of Experimental Beryllium Reactor, General Atomics, Calif 1964 - 1967; Reactor Project Engineer for Atomic Energy Commission (AEC), HQ Idaho Falls, Idaho 1967 - 1968; Power Reactor Inspector AEC Region 3 1968 - 1972; Branch Chief, AEC (later became the Nuclear Regulatory Commission), initially in charge of utility inspections of the testing of 1000 MW Power reactors, later in charge as the Project Branch Chief of all Power Reactors in Region 1972 - 1983. Eldon and his wife, Gladys, have been volunteering at the Hospice of Kankakee Valley for 28 years (a nonprofit organization).
America's Registry's Honor Roll is reserved for a select group of members who have shown leadership and commitment to their industry. Mr. Brunner's career in the nuclear power industry reflects his commitment and dedication not to mention the extraordinary capabilities that he has shown throughout. America's Registry is proud to honor him.
Contact
America's Registry of Outstanding Professionals
Bea Hanley
516-997-2525
www.americasregistry.com

Contact