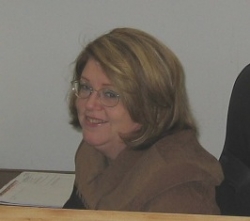 Fort Myers, FL, January 19, 2006 --(
PR.com
)-- Janine Foster, Tech Travel Agent from Rentacomputer.com, took second place in the International Technology Rental Association (IT-RA) award for Outstanding Staff Member. Janine was up against over 1000 IT-RA member employees including sales people, AV technicians and
computer rental
support staff for the award. Only employees of IT-RA member companies that are considered the very best staff members are eligible for this award.
One IT-RA voting member per company casts his or her ballot for the top three outstanding IT-RA company staff members. The IT-RA voting members were looking for certain qualities to qualify for the award. Qualities such as efficiency, professionalism, thoroughness and a pleasant personality.
Janine Foster was chosen because she provided excellent service to fulfill IT-RA orders, resolved problems, provided excellent technical support and provided accounting related assistance with invoices and purchase orders.
Janine Foster's previous employment was with a local convention bureau in Middletown, near Cincinnati, Ohio. She had been working with Rentacomputer.com for just over a year when she earned this international industry award. Her convention service background made it a very easy transition to the AV and Computer Rental Industry since the majority of her customers are trade show exhibitors, conference planners and convention organizers. Janine Foster has product knowledge which extends to such high tech products as Plasma Flat Screen Rentals, Wi-Fi wireless laptop rentals and microphone rental technology. She can even find a Wi-Fi hot spot in most major cities.
The Tech Travel Agents at Rentacomputer.com would like to recognize and congratulate Janine Foster on her industry achievement and excellent customer service. Already Janine is working on next years outstanding staff member award by being one of the busiest computer rental and AV reps in the organization.
Contact a Tech Travel Agent at http://www.Rentacomputer.com, email rentals@Rentacomputer.com or call toll free 800-736-8772. For more information on Tech Travel Agent Services visit http://www.TechTravelAgent.com
John Beagle is a technology writer for Xponex Web and Media Services. Website http://www.Xponex.com phone 937-558-7776.
###