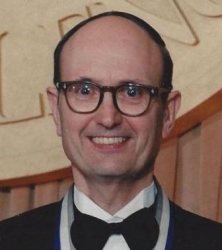 Bellevue, WA, July 03, 2014 --(
PR.com
)-- About Henry E. Halladay
Dr. Henry E. Halladay is a Consultant and Registered Professional Engineer. He is retired from Boeing Company. Dr. Halladay's 40 year career with Boeing included aircraft components and subsystems, satellite components and subsystems, communication systems, electromagnetic compatibility issues, computer simulations of circuits, subsystems and systems. In addition to hardware design, implementation and delivery, he has been involved with computer systems, software and networking. He is experienced in computer languages including FORTRAN, C, Visual Basic, IEEE 488 instrumentation control and Ethernet protocols for instrumentation command and control. Dr. Halladay was instrumental in the development of a state-of-the-art Signal Analysis Laboratory for component, subsystem and system analysis, verification and validation. Dr. Halladay has numerous awards and honors including being elected to the Eta Kappa Nu and Tau Beta Honorary Societies, selected to the Order of the Engineer, elected Boeing Associate Technical Fellow, Boeing Technical Fellow, and Boeing Senior Technical Fellow. He has received the Lifetime Achievement Award in Engineering Consulting from America's Registry of Outstanding Professionals. Dr. Halladay has published papers in IEEE Proceedings, IEEE Transactions on Electron Devices, and IET Electronic Letters. In his leisure time, Dr. Halladay enjoys gardening, his pets, computer applications involving video surveillance, programmable home lighting, remote security applications for cell phones, 3D printing and DVD learning.
The Strathmore's Who's Who Lifetime Achievement Award is given to the individual who has demonstrated consistent excellence in their career. The visual celebration of this individual will be displayed on digital screens at the venerable and historical 3 Times Square, New York, one of the busiest and most high profile landmarks in the nation.
About Strathmore's Who's Who
Strathmore's Who's Who publishes an annual two thousand page hard cover biographical registry, honoring successful individuals in the fields of Business, the Arts and Sciences, Law, Engineering and Government. Based on one's position and lifetime of accomplishments, we honor professional men and women in all academic areas and professions. Inclusion is limited to individuals who have demonstrated leadership and achievement in their occupation, industry or profession.