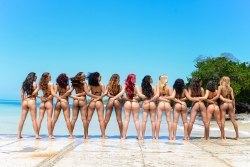 Negril, Jamaica, July 21, 2014 --(
PR.com
)-- The main stage at
Hedonism II
in Negril has been home to some of the most provocative pageants on the planet, a perfect centerpiece to kick off this season's adult vacations. To add to its reputation, Negril's super-sexy, all-inclusive beach resort has just announced that the classic Miss Bum-Delicious Pageant will take place on their property from August 31 to September 7, 2014.
The Miss Bum-Delicious Pageant is as seductively inclusive and as mesmerizingly mouthwatering as the resort itself. The contest is open to females of all ethnicities who see themselves as ravishingly gorgeous, intelligent, talented, stylish women with the ultimate embodiment of a captivating and blazing beach beauty.
"We are very excited to bring on stream this sizzling new addition to other events that we offer here at Hedonism," managing director Kevin Levee noted. "We've just spent some US$5M upgrading and enhancing our amenities here. We are looking forward to hosting this new event so that our guests can enjoy this amazing contest while experiencing a vastly enhanced resort, including new VIP treats, Jacuzzi suites, fantasy guest rooms, fully stocked mini bars with premium brands, deluxe bathrooms, and a lot more," Levee continued.
This classy, Miss Bum-Delicious pageant will be split into the following segments: the Poolside Bikini Challenge, the Talent Segment, the Evening Gown Parade, the Bare As You Dare Knockout Round, and the Final Sexy Question & Answer. All participants must be over 18 years old. Ladies who wish to participate are urged to contact the resort immediately by email with 2 recent full-body and face photos.
Twelve finalists will be selected prior to the event, and ladies will be required to spend a week at the resort for the duration of the pageant. This is where they will meet and greet guests and participate in photo shoots and rehearsals for their final night. Miss Bum-Delicious 2014 will receive a cash prize of US$1000 as well as a return vacation for a week. The first runner up will receive US$750, plus a 5-night vacation for 2, and the second runner up will win US$500, along with a 3-night stay for 2 at Hedonism II.
Miss Bum-Delicious 2014 is expected to be a magnet for hundreds of pageant fans who will converge in Negril during pageant week, and guests can participate in a number of activities, including fashion shows, pajama parties, body painting, toga parties, a wet t-shirt contest and nude volleyball playoffs. Or, one can simply daydream under the soul-warming rays of the tropical sun and do nothing.
Hedonism II is located on Rutland Point, along Norman Manley Boulevard in Negril, Westmoreland, Jamaica. To contact the resort, call (631) 588-4336. Hedonism II is one of the top adult all-inclusive resorts for pleasure that nourishes the body, mind, spirit, and soul. For over thirty years, this trendsetting resort has shattered inhibitions, pushed the limits of human endurance and brought untold joys and fulfillment to hedonists from all corners of the globe. All the rumors, legends and myths you've heard about Hedonism is all true! To learn more about the hottest spot for adult vacations, go to
hedonism.com
,
facebook.com/HedonismJamaica
or
twitter.com/HedonismJamaica
. For more information on this season's sexiest pageant, contact Leethan Grandison, Public Relations & Social Media Manager at (876) 957-5200 or leethangrandison@hedonism.com.