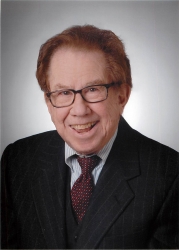 Chicago, IL, August 07, 2014 --(
PR.com
)-- About Albert C. Hanna
Albert C. Hanna is Senior Vice President of Draper and Kramer, a property and financial services company headquartered in Chicago, Illinois. Draper and Kramer provides property management services, real estate development, mortgage financing services and investment property services. Mr. Hanna has over 20 years in pro bono work and litigation pertaining to the protection of property rights. He is the author of more than 40 articles related to real estate economics and development and their impact on city finances. Mr. Hanna earned an M.B.A. and J.D. at the University of Wisconsin. He is a veteran of the United States Army and served active duty in Korea. He is affiliated with the Civic Federation and Boy Scouts of America as well as the Hanna Venture Base Foundation and the Al and Chris Hanna Eagle Scout Foundation. Mr. Hanna enjoys mountain climbing and has climbed the Seven Summits (but missed the Mount Everest Summit by 300 vertical feet.) In his leisure time he also enjoys skiing and tennis.
www.draperandkramer.com
About Strathmore's Who's Who
Strathmore's Who's Who honors successful individuals in the fields of Business, the Arts and Sciences, Law, Engineering and Government. We honor professional men and women in all academic areas and professions based on one's position and accomplishments. Inclusion is limited to individuals who have demonstrated leadership and achievement in their occupation, industry or profession. The Times Square appearance is given to the individual who has demonstrated consistent excellence in their career. The visual celebration of this individual will be displayed on digital screens at the venerable and historical 3 Times Square, New York, one of the busiest and most high profile landmarks in the nation.