Financial Advisors Use AlgoTrades Automated Investing System for Their Clients
This automated trading system is helping financial advisors generate more gains and diversification for their client's investment capital.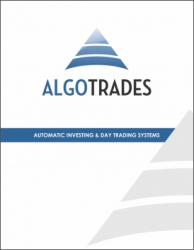 Collingwood, Ontario, Canada, August 04, 2014 --(
PR.com
)-- AlgoTrades, the leading provider of
automatic investing strategies
for individual investors announced that financial advisors can use the automatic investing system. This will provide financial advisors with the ability to have the AlgoTrades investing system trading a portion of their client's capital.
"There is going to be a paradigm shift from financial advisors to automatic investing systems in the next five years. Financial advisors using AlgoTrades investing systems will benefit from the advanced strategies, provide diversification for their clients and arm them with a solution that can make money during market down turns.
AlgoTrades has the most innovative investing solution, and financial advisors who are ahead of this curve to adopt automated systems into their plethora of investment options for their clients will not only retain their clients, but strengthen their relationship and grow.
Algotrades is seeing increased demand for its existing automatic investing systems. The Algotrades futures system has a 91.7% accuracy for the first 6 months of this year and clients have a 20% ROI to date. Max peak-to-valley drawdown is only 2.4% and many of our clients are asking for more diverse and active automated trading solutions to expand their portfolios," stated Chris Vermeulen, CEO & Founder.
Download AlgoTrades Information Package:
Click Here
AlgoTrades is intended for all investors; new investors looking to make a first investment or seasoned investors who has been trading for decades.
It requires absolutely no work on the investor's part. All trades are executed automatically. It uses advanced filters to monitor the market on a tick-by-tick basis carefully evaluating each entry, profit or loss, and stop placement level in real time. All this analysis is done automatically, in the blink of an eye, so their clients can focus on the more important things in life. Also, AlgoTrades.Net recently announced it can be traded within a client's IRA account to maximize gains even more.
"This is an automated investing system that provides investors with an opportunity to invest alongside the founder, capitalizing on my entrepreneurial investment approach, trading strategies, money management skills and experience," stated Chris Vermeulen, AlgoTrades CEO.
About Technical Traders Ltd.:
AlgoTrades Systems, which is a wholly owned subsidiary of Technical Traders Ltd., was established in 2008 and offers a range of investment and swing trade alert newsletters.
This quantitative trading company offers investors an unique opportunity to participate in a leading company in the business of quantitative investing, low frequency trading systems "LFT," for a 100% hands-free investing experience.
Contact
AlgoTrades Systems
Chris Vermeulen
1-844-692-5468
www.AlgoTrades.net

Contact