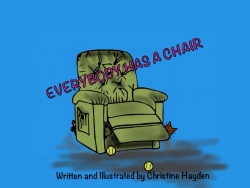 Surrey, Canada, July 28, 2014 --(
PR.com
)-- "Everybody Has A Chair" is the first in Christine's Everybody Has... series. Christine was intrigued with the "Everybody...." phenomenon and decided to climb aboard the Everybody train.
"Although the Everybody idea is not new, I like to think that I have created something a little unique. The two wee characters are drawn in a two-dimensional perspective yet bust off the page in their three-dimensional like-ability. The little girl was inspired by my gorgeous great-niece Jordan."
Vibrantly illustrated and simply narrated in two rhyming lines per page, this book keeps the wandering minds of children engaged and provokes much discussion and imagination during and after it's read...just how many different chairs are there?
"Everybody Has A Chair"
By Christine Hayden
Self-Published July 14, 2014
Available on Apple Ibooks and iTunes app store
$2.99CAD
To view this book you must have an iPad with iBooks 3 or later and iOS 5.1 or later or a Mac with iBooks 1.0 or later or OS X 10.9 or later