Savvy Franchise Targets Crime with SHIELD Security Systems Partnership - Marking Entry Into New Franchise Market
Ken Elias and Amy Elias of Savvy Franchise recently announced the start of a collaborative partnership with leading security franchise SHIELD Security Systems. This new relationship between franchise consultants Savvy Franchise and SHIELD Security Systems points towards impressive franchise opportunities for veterans, police officers, retired law enforcement individuals and others with diverse military, law enforcement and technical backgrounds.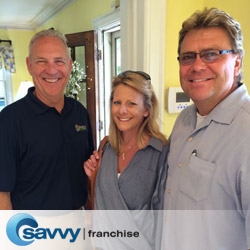 Atlanta, GA, August 02, 2014 --(
PR.com
)-- When many people think of an emerging franchise opportunity, the first thought that flashes to mind is quick-serve food concepts. While these can be promising, top franchise consultants Ken and Amy Elias of
Savvy Franchise
are paving the way towards a new franchise industry and demonstrating that food and beverage franchises are far from the only area, an entrepreneur seeking financial freedom has to explore.
Peace of mind and safety have played an important role for many homeowners and families seeking security for themselves and their household members. With the increase in crime rates in so many metropolitan cities across the country, home security systems have increased in popularity and have become more of a mandatory feature in a home and less of a luxury option.
Recently, the Atlanta based franchise consultation company announced a new franchise partnership, facilitating security franchises with industry leading SHIELD Security Systems. SHIELD Security Systems, according to Savvy Franchise, presents many unique opportunities and ones that are great fits with owners from diverse histories, backgrounds, and experience.
"We're incredibly excited to be working with Ken and Amy of Savvy Franchise," commented Mary Jezioro of SHIELD. "A security system franchise is perfect for veterans and people with military background as well as those in law enforcement and gives them a real chance to use the skills they have learned serving our country and protecting our communities in a way that can bring them financial security and abundance."
Savvy Franchise will act as consultants guiding interested franchise applicants who are a good fit with SHIELD Security Systems through the application process bringing more value to the franchise / franchisee relationship and helping speed up the process of getting the new franchise started. Savvy Franchise has a tremendous amount of experience in this area and will deliver their franchise consulting services completely free of charge to investors and business owners interested in owning their own SHIELD Security System franchise opportunity.
This
new franchise concept
is a great option as security revenues are growing substantially. In 2010, an estimated 18% of households used professionally monitored security systems generating about $10 Billion in service fees. It is forecasted that by 2020, that figure is expected to rise to 30% of US households while the video surveillance market is projected to increase over 40% over the next four years.
Savvy Franchise is part of the VetFran preferred provider program. The VetFran program offers a 10% discount on the initial franchise fee to military veterans honorably discharged from service. VetFran also offer financing programs for up to one half of the franchise fee at a preferred rate for qualified veterans. Combined with the appealing opportunities for veterans SHIELD Security Systems offers, the company expects to see more veterans entering the franchise industry in the months and years to come than ever before.
For more information be sure to visit
http://www.savvyfranchise.com
.
Contact
Savvy Franchise
Ken Elias
706.453.1404
www.savvyfranchise.com
The Franchise Team

Contact