The DOR Team, REALTORS® of Prudential California Realty Join Berkshire Hathaway HomeServices Real Estate Brokerage Network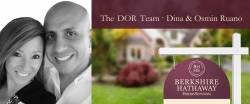 Redondo Beach, CA, November 19, 2014 --(
PR.com
)-- The DOR Team is now part Berkshire Hathaway HomeServices California Properties.
Berkshire Hathaway HomeServices, part of the HSF Affiliates LLC family of real estate brokerage franchise networks, announced on October 29, 2014 that Prudential California Realty, has joined the network and is operating as Berkshire Hathaway HomeServices California Properties.
"We are excited to be part of the Berkshire Hathaway HomeServices organization because of the added value that it brings to our home buyers and sellers. The brand – inspired by the world-renowned Berkshire Hathaway Inc. – carries an unparalleled level of quality and innovation to real estate," said Dina and Osmin Ruano, co-founders of The DOR Team.
Dina and Osmin said that Berkshire brand is well recognized in the real estate industry. "Our clients will look for our Cabernet and White yard signs as symbols of distinction, trust and service – differentiators in a crowded marketplace," they explained.
Dina and Osmin Ruano have been influential and reputable real estate sales professionals with the Prudential California Realty Brokerage. Their own team outfit, The DOR Team had the opportunity to serve many customers since 2010, building a valuable and extensive wealth of networking and know-how surrounding the local market.
The pair's transparency and remarkable negotiation skills make them the premier choice of seasoned real estate investors, sellers, as well as first-time buyers looking for quality and reliability.
As part of the transition, The DOR Team now has access to Berkshire Hathaway HomeServices' Global Network Platform – a robust suite of real estate tools and resources – plus professional education, business consultation, marketing support and the exclusive Luxury Collection program for high-end listings. "Relevant technology is a key component of Berkshire Hathaway HomeServices' value proposition," said Dina and Osmin. "We are eager to begin using these powerful resources."
About The DOR Team
The DOR Team, co-founded by Dina and Osmin Ruano, serves the South Bay communities of Southern California with offices in Redondo Beach, Rolling Hills Estates and Torrance CA. Since 2006, the couple has provided a full scope of services for residential properties. Visit www.DORPROPERTIES.com for details.
About Berkshire Hathaway HomeServices
Berkshire Hathaway HomeServices, based in Irvine, CA, is a real estate brokerage network built for a new era in residential real estate. The network, among the few organizations entrusted to use the world-renowned Berkshire Hathaway name, brings to the real estate market a definitive mark of trust, integrity, stability and longevity. Berkshire Hathaway HomeServices in early 2014 was named "Real Estate Agency Brand of the Year" by consumers in the 26th annual Harris Poll EquiTrend® study of the largest real estate networks. Visit www.berkshirehathawayhs.com.
Irvine, CA-based HSF Affiliates LLC operates Berkshire Hathaway HomeServices, Prudential Real Estate and Real Living Real Estate franchise networks. The company is a joint venture of which HomeServices of America, Inc., the nation's second-largest, full-service residential brokerage firm, is a majority owner. HomeServices of America is an affiliate of world-renowned Berkshire Hathaway Inc.
Berkshire Hathaway HomeServices received the highest numerical Equity Score among real estate brands included in the 2014 Harris Poll EquiTrend® Study. Visit www.berkshirehathawayhs.com for details.
Prudential, the Prudential logo and the Rock symbol are service marks of Prudential Financial, Inc. and its related entities, and are used under license with no other affiliation with Prudential.
The names of actual companies and products mentioned herein may be the trademarks of their respective owners.
For more information:
Dina Ruano
310-465-9107
dina.ruano@yahoo.com
Contact
The DOR Team - Dina & Osmin Ruano
Dina Ruano
310.465.9107
www.DORPROPERTIES.com

Contact