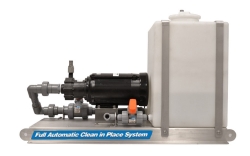 Fresno, CA, August 22, 2014 --(
PR.com
)-- Most oilfield produced waters and other oily wastewaters have high fouling potential for optical sensors. High Cost Ultrasonic Cleaning systems only address the local optical path and not the entire sample system. The TurnerCIP (Clean In Place) addresses the entire sample system in the same way that CIP's are used to clean heat exchangers and other oily systems in heavy industry worldwide.
Features of the TurnerCIP (Clean In Place) include:
· ­ Chemically cleans the complete sample system from sample take off to the drain from the monitor.
· ­ Self Contained with no chemical discharge. All chemicals and waste are self contained until drained.
· ­ Pneumatic or Electrical, Manual or Automated, Explosion Proof or General Purpose. Can be fully controlled by any TD-4100 XD with E09 user interface.
· ­ Chemical choice and cleaning frequency dependent on the process water.
· ­ Light weight / small footprint
· ­ Can be used to clean multiple sample lines with one CIP.
· ­ Add to any existing oil in water monitor
· ­ Lowest cost of ownership. Can be manufactured locally with free supplied drawings or factory supplied.
· Turner Designs Hydrocarbon Instruments manufactures oil in water monitors for all forms of heavy industry including oil and gas.
For more information about the TurnerCIP (Clean In Place), please contact sales@oilinwatermonitors.com or visit www.oilinwatermonitors.com.
Turner Designs Hydrocarbon Instruments, Inc.
2023 N. Gateway Blvd. Ste 101
Fresno, CA 93721, USA
+1-559-253-1414
www.oilinwatermonitors.com