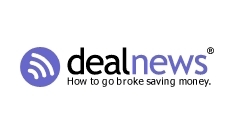 Huntsville, AL, January 20, 2006 --(
PR.com
)-- Don't make another purchase on or off the Internet without first consulting the ultimate source of news on deals =
dealnews.com
.
dealnews.com was launched in 1999 by CEO Daniel de Grandpre and CTO D. Richard Moss with the mission of advocating the consumer by scouting the best deals on the market and presenting them to their ever growing readership.
Now, one of the world's most visited websites according to traffic ranking source, Alexa.com, dealnews.com updates their web site content daily, making them a relevant site to visit on a regular basis! In addition to the company's full time staff, dealnews.com employs deal scouts nationwide to find discounts, in-store events, rebates and other sales all over the country and all deal information gets reported to the DealNews.com staff. dealnews.com investigates literally hundreds of deals each day that are submitted by dealnews.com's readership, merchants and by staff researchers. Upon receiving a "lead", they will investigate its validity and value to the consumer both objectively and subjectively:
Objectively = is it valid and is it the lowest available price for that item?
Subjectively - is it a good price compared to similar items? Is it from a reputable seller? Would anyone want to buy one of these anyway?
If a deal passes these tests, it's turned into "dealnews".
dealnews.com features deals in all major product categories: computers, electronics, apparel and accessories, toys, gadgets, gift items, DVDs/music/books, office supplies and more.
Bookmark www.dealnews.com for inside information on the world's best savings!
###