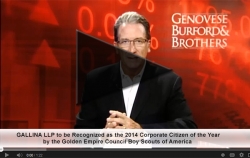 Sacramento, CA, August 27, 2014 --(
PR.com
)-- Publicly recognized as a pillar of positive community involvement, GALLINA LLP will be honored by the Golden Empire Council Boy Scouts of America on September 26, 2014. The Roseville accounting and consulting firm will be named the 2014 Corporate Citizen of the Year at the Golden Empire Council's Professional Luncheon. In keeping with GALLINA's ongoing support of the community, event proceeds will benefit the expansion of Scout programs with a particular focus on under-served areas.
The Golden Empire Council Boy Scouts said of the recognition awarded to GALLINA LLP, "Just like Scouting's mission is to strengthen character-based values in youth, GALLINA demonstrates similar values in the firm's leadership of clients, staff, and the communities that it serves."
Held at Hilton Sacramento the corporate fundraising event will begin at 11:30 a.m. and end at 1:30 p.m. Sponsorship of advertisements and tables at the corporate luncheon are available online as are individual tickets for the event. Advertisement sponsorships range from $250 to $1,000 and tables of ten can be sponsored for a donation of $2,500 to $5,000. All funds raised will support The Golden Empire Council's four resident camps and two Scout service centers in Northern California. Presently, these camps and centers serve 17,000 youth and their families.
Golden Empire Council Boy Scouts of America Professional Luncheon Video Announcement
About GALLINA LLP:
GALLINA LLP is a full-service firm with niches in construction, real estate, agribusiness, government, and nonprofit in addition to offering services to a broad range of other businesses and individuals. Headquartered in Roseville, the firm has been opening doors to success for their clients since 1972. GALLINA LLP has grown to a solid team of 47 partners and over 275 staff members who have a wide range of experience in accounting, auditing, tax planning, succession planning, claims consulting, and business management consulting. GALLINA LLP serves its clients through offices in Las Vegas, Mercer Island, Novato, Ontario, Rancho Cordova, Reno, Roseville, San Bruno, San Jose, and Walnut Creek. The firm's general client base spans the Western Regional states, but specialty services are provided to businesses throughout the entire United States and worldwide.
###
DOWNLOAD PDF
For more information about GALLINA LLP, visit
www.GALLINA.com
.
GALLINA LLP Media Contact
Rochelle Pettit, Marketing Manager
Phone: +1 916 638 1188 ext. 1060
Email: rpettit@gallina.com