Lakefront Living Realty, LLC Optimizes Website to Reduce Lakefront Home Searches to Just Seconds
A strategic upgrade on LakefrontLiving.com bonds lake names with property addresses reducing New England lakefront property buyers input to just 3 simple steps.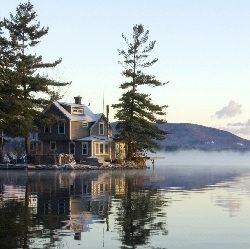 Mansfield, MA, September 05, 2014 --(
PR.com
)-- It is said that over 90% of all home buyers begin their search online. And while this is typically a smooth process for most home buyers, the same cannot be said for those dreaming of lakefront living. Searching the internet for direct lakefront homes can be tedious and difficult.
The inherent problem is the way that Multiple Listing Service (MLS) data is entered, and then distributed, to the internet. Generally, MLS systems do not have a way to separate the direct lakefront homes from the ones that are across the street, have deeded rights, or simply just have a view of the lake. Therefore, search functions cannot grab the right data for interested consumers.
"We found that buyers were extremely frustrated trying find direct lakefront homes online. In fact, our survey indicated they were averaging 3.4 hours searching through several websites and coming up empty handed," said Scott Freerksen, Owner/Broker of Lakefront Living Realty, LLC, "and so we set out to reduce that time to just 15 seconds or less."
Four times per day, the team at Lakefront Living Realty comb through every new listing that is coded as a lakefront property in the states they cover (Massachusetts, Rhode Island, New Hampshire & Connecticut). Ultimately, only about 30% of all the new listings coded as such are actually directly on the water. These homes, as well as land and long-term rentals, are pushed over to LakefrontLiving.com and "attached" to the specific lake they are on.
"Lakefront Buyer's appreciate the fact that the site is a one-stop shop and solves 3 of their problems," says Freerksen. "We display direct lakefront homes only, provide the details of the lakes they are on, and connect them with a local lakefront specialist to ultimately coach them through their purchase."
The site currently displays over $1.4 Billion in direct lakefront inventory (1800+ direct lakefront homes and land). Buyers can find everything from a $100,000 lakefront summer camps to $30,000,000 luxury waterfront dream properties. If it is on the water, it is on the site.
This latest optimization step to LakefrontLiving.com seems to be working. 52% of the 40,000 monthly visitors are "returning guests" persistently carrying on their quest to live the lakefront lifestyle.
About Lakefront Living Realty, LLC
Based in Mansfield, Massachusetts, Lakefront Living Realty, LLC is a full service real estate brokerage specializing solely on the purchase and sale of direct lakefront property in New England. Owner Scott Freerksen "The Lake Guy," a Real Estate Broker and Realtor, founded Lakefrontliving.com in 2003 as way to passionately unite buyers and sellers of direct New England lakefront property. For complete information, visit
www.LakefrontLiving.com
, call Scott at 508-377-7167 or e-mail at info@lakefrontliving.com.
Contact
Lakefront Living Realty, LLC
Scott Freerksen
508-377-7167
www.LakefrontLiving.com

Contact