Handetour.Com Announced 2015 Brochure of Vietnam and Indochina Tours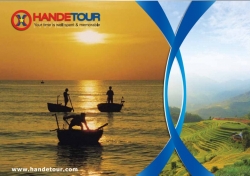 Los Angeles, CA, September 25, 2014 --(
PR.com
)-- Handetour.Com announced the launch of Handetour's 2015 Vietnam and Indochina Brochure as an annual brochure of
Vietnam Tours
and Indochina Tours for worldwide travelers and travel professionals, featuring a range of latest travel products.
The launch of the 2015 brochure provides worldwide travelers and travel professionals the most comprehensive range of private and customized tours to Vietnam and Indochina, the insider information and new recommended hotels & resorts in the countries. New luxury tours and luxury cruises in both Mekong River and Halong Bay are also updated.
Handetour.Com's updated travel products allow worldwide travelers and travel professionals to plan and complete their bookings far in advance, providing them with the opportunity to secure the best prices.
Handetour.Com commits to worldwide travelers and travel professionals that Handetour.Com will continue to build on its success, to provide best experience while traveling in Vietnam and Indochina.
Handetour.Com aims to ensure that travelers will not miss something along the way as they travel in Vietnam and Indochina, it aims to ensure that travelers' time is well spent and memorable.
Please contact Handetour.Com directly for the details.
About Handetour (http://handetour.com/):
Handetour, with its head office situated in Hanoi capital, Vietnam, was established in early 2006 by Mr. Nguyen Tuan Anh and his team, soon becoming a Professional Inbound Tour Operator with thousands of travel agents and clients all over the world.
Handetour specialize in High Quality & Luxury Leisure and Cultural Tours, also provide tourists with quality accommodation, visa service, ticket booking, transport arrangement, tour guide/ interpreter hire, M.I.C.E, special interest tours and other travel services within Vietnam, Laos and Cambodia.
Handetour (established on 26th April 2006)
+ Business License No: 0101929662 by Hanoi Planning and Investment Department
+ International Tour Operator License No: 01-380 / TCDL-GP LHQT by Vietnam Administration Of Tourism
+ Member of: Vietnam Tourism Association (VITA #2436); Vietnam Society Of Travel Agents (VISTA); Vietnam National Administration of Tourism (VNAT); Hanoi Department of Culture, Sports and Tourism (Hanoi Tourism); Pacific Asia Travel Association (PATA #6989); American Society of Travel Agents (ASTA # 900169082); Vietnam Chamber Of Commerce And Industry (VCCI)
Contact
Handetour
Nguyen Tuan Anh
+84 36416359
http://handetour.com
Come to explore the hidden charm, to perceive the value of the rich culture & to discover "S" shape of this small beautiful country with Handetour.

Contact