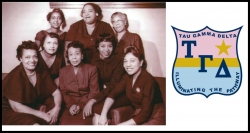 Detroit, MI, October 01, 2014 --(
PR.com
)-- Endowed with lighthearted spirits, creative minds and progressive ideas, a group of young business women gathered in Detroit, Michigan to form a club. "Let's have a Sorority!" said Founder Juanita Parnell. So it was born, a sorority of business and professional women ever growing and attracting thousands of women across the land. Tau Gamma Sorority, Inc. was founded at Lewis Business College under the name of Phi Gamma Delta Sorority in 1942. The name was changed to Tau Gamma Delta Sorority, Inc. on October 17, 1951. The members of Tau Gamma Delta enjoy a biennial meeting of the minds called 'Boulé' where sorority business, including furthering community and civic service, takes place. The 55th Boulé was hosted in July 2014 in the founding city of Detroit, Michigan.
The eight founders, affectionately called "Pearls," envisioned the organization spreading the word near and far. The pathway was made to be illuminated by the symbol of a "Star," reaching many women in business and professional fields. Today, the vision is linked from coast to coast with chapters in the central, eastern, southern and western regions of the United States, led by a dynamic leader, National President Judy Dillard of Durham, North Carolina.
Tau Gamma Delta has a meaningful purpose. The purpose of the sorority shall be to unite those persons who have graduated from or entered an accredited university or college with a course of study leading to a degree; or having owned or operated a business or in a professional status for a period of not less than five years. We strive to promote higher ideals and establish reputable standards for growth and harmony of true sisterhood of business and professional persons of the world; aid in the education of worthy students desiring business or professional training and further community and civic activities. Simply, Tau Gamma Delta aims to serve humanity.
The group comments, "The spirit of our Founders, those phenomenal women, made yesterday's dreams today's hope and tomorrow's goal; our history was not just written, it is being lived! They fervently hope and happily pray that God will bless us as we continue on our way. That as sisters, we will work always in unity to continue to build a great Tau Gamma Delta Sorority, Inc.; thus Illuminating The Pathway."
For details regarding membership in Tau Gamma Delta, please contact the National Graduate Organizer, Mrs. Sherika Daniels-Mays.