Intra-Galactic War Brews in New Science Fiction Novel: Five Scientists Discover Their Destinies in "Legends"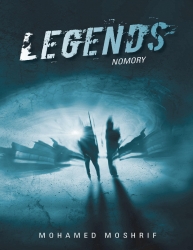 Cairo, Egypt, October 17, 2014 --(
PR.com
)-- An intra-galactic war is set to destroy the earth unless five human scientists and an alien scientist can put a stop to it in Mohamed Moshrif's new science fiction novel "Legends: Nomory" (published by Lulu).
In the year 2032, a Land Cruiser zips across the Egyptian desert, carrying Dr. Sarah Michael, the top Egyptologist, and four students. After months of searching, they finally discover an ancient tomb that holds the answers they seek. Once inside, the group becomes trapped with nothing but a mysterious hologram to guide them.
On the faraway planet of Nomory, chief scientist Monar shares the story he's been programmed to keep secret for centuries. Through Monar's hologram, the group learns of the intra-galactic war and the legends that saved the world. As Monar's story comes to a close, the group realizes the true reason for his tale: Monar is preparing them for war.
The fate of Earth rests in the hands of five human scientists in this action-packed science-fiction thriller. Moshrif advises readers to be on the lookout for the next installment in the series, which is due to be released in the near future.
"I want readers to immerse themselves into the world I am trying to create," Moshrif writes. "I want them to fight with their feelings and hopes for Monar and his team."
"Legends: Nomory"
By Mohamed Moshrif
Softcover | 6 x 9 in | 240 pages | ISBN 9781483418292
E-Book | 240 pages | ISBN 9781483418285
About the Author
Mohamed Moshrif has enjoyed reading science fiction since he was a child. Originally a computer scientist and a fan of science and the supernatural, he enjoys pursuing adrenaline-rushing activities like skydiving and piloting airplanes as well as more creative pursuits like photography and cooking. He is an avid traveler who lived in several locations around the world.
Contact
Mohamed Moshrif
+8618662172449
http://mohamedmoshrif.com

Contact