Cyril Roseman Recognized by National Alliance of Male Executives-N.A.M.E.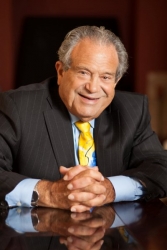 Ramona, CA, November 07, 2014 --(
PR.com
)-- Cyril Roseman of Ramona, California has been recognized by the National Alliance of Male Executives-N.A.M.E. for his outstanding contributions and achievements in the field of financial consulting.
About Cyril Roseman
Dr. Roseman has 22 years experience in the financial field. He is a FINRA Registered Financial Advisor through his firm, Bridgewest Financial & Insurance Services, Inc., which provides financial advisory services in Ramona, California, and throughout San Diego County. He specializes in retirement distribution planning, estate preservation planning, IRA rollovers and college funding. Dr. Roseman has developed a unique approach to IRA's for those age 55+, called Freedom 4 Life IRA Rollover/transfer, that permits investor determination of commitment to liquidity/flexibility and permits investors to enjoy both lifetime income benefits and liquidity with no tax penalties after age 60. He also offers special investor opportunities for 1031 Real Estate Exchanges, alternative investments (REIT's, BDC's, Mortgage Loans and Equipment Leasing), Unit Investment Trusts, Indexed Annuities, Universal Life Policies, and College 529 programs. Dr. Roseman also offers a special fast track Retirement Goal Analysis Plan and a lifetime Retirement Annual Distribution Planning System for seniors.
Dr. Roseman is a CFP practitioner, as well as an Accredited Investment Fiduciary. He works on both a fee based and commission-based reimbursement system. He has clients located in California, Hawaii, Nevada, Colorado, North Carolina and Arkansas. Dr. Roseman was born on August 6, 1936 and obtained a B.A. from Temple University in 1957 and a Ph.D. from Princeton University in 1963. In his spare time he enjoys travel, reading, fitness, movies, global politics and economics, swimming, mineral water spas, poetry, cooking and live theatre. For further information, visit www.way2retire.com.
About National Alliance of Male Executives-N.A.M.E.
N.A.M.E.® is a unique online association for male executives and professionals in all industries. This premium service and alliance recognizes male professionals who have achieved success as well as those looking to further their careers and expand their business opportunities by providing networking, advertising, marketing and entertainment services. For more information about their unique services and testimonials, visit their website at www.way2retire.com.
Contact
N.A.M.E.-National Alliance of Male Executives
Susan Koop
516-272-4494
www.name-exec.com

Contact