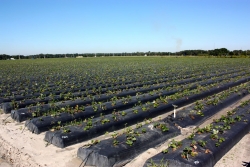 Plant City, FL, November 25, 2014 --(
PR.com
)-- By order of the Bankruptcy Court, three parcels in Hillsborough County will be auctioned by Tranzon Driggers on 11 December 2014.
The northernmost 53+/- irrigated acres are leased to a strawberry grower and the second and third parcels are a mix of pasture and natural land. Irrigation for the strawberry fields is provided by a diesel powered suction line, which draws from a surface water pond. This system, which reduces the removal of water from Florida's endangered aquifers, has great potential for the expansion of sustainable agriculture in the area. Florida DEP encourages this approach; for information on grants available, visit http://www.dep.state.fl.us/water/wff/index.htm. There are also two diesel powered wells with current water use permits.
The pasturage acreage offers multiple possibilities. In addition to its present and future use as grazing for cattle, there are agricultural applications. The land has never been cultivated, so it has great potential as an organic farming site with no three year waiting period to certify the location as organic. The existence of surface water ponds will significantly reduce the need for aquifer-based irrigation. Blueberries, along with other crops, have excelled on land that has been reclaimed from phosphate mining. Visit the Florida Blueberry Grower's Association website for information on this booming industry.
The property has been permitted by the SW Florida Water Management district as a 'borrow pit' for the extraction of fill dirt from phosphate mining activities. In addition, there are more than 4 million yards of surplus fill dirt that can be sold.
The auction will be held at 110 East Madison Street, Suite 200, Tampa, FL; drive by anytime to see the land. Full details on the property and qualification to bid requirements can be found at www.tranzon.com/DG814.
Plant City, FL is known as the winter strawberry capital of the world. Originally named for the railroad magnate Henry Plant, the area has lived up to its name by being a cotton center before shifting over to winter fruit and tropical plant production.
Contact: Jon Barber, Tranzon Driggers, 877-374-4437 jbarber@tranzon.com
Tranzon Driggers is a member company of Tranzon, LLC and Tranzon International, LLC. Tranzon is one of the largest real estate auction companies in the country, with over 30 offices coast-to-coast. Tranzon's accomplished auction professionals are widely recognized as leaders in the auction industry. All Tranzon companies are independently owned and operated.