Keller Williams Silicon City Enters San Jose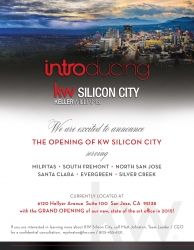 San Jose, CA, December 30, 2014 --(
PR.com
)-- Keller Williams, the largest real estate franchise by agent count in North America, announced today that it has expanded its network in Santa Clara County with the opening of Keller Williams Silicon City.
"Keller Williams is excited about opening a new market center in San Jose, " said KWI CEO Mark Willis. "Our company has a policy of limiting its market presence by selecting only the premier partners in any given area. These individuals are top producers, or have the potential to be so. By maintaining our standards of excellence, we can provide Keller Williams customers with the best real estate experience possible."
Keller Williams keeps its agents performing at the highest level by offering them leading-edge training and technology. The company's models, systems and culture attract and retain the best in the business.
"KW Silicon City is going to be amazing for the agents and their clients and we are very excited to partner with Keller Williams. The Bay Area is one of the most progressive real estate markets in the US and to be competitive in this fast paced industry we need to be proactive and forward thinking. Keller Williams is both. The tools and education here are second to none." said Broker/CEO Matt Johnston.
Silicon City's affiliation with Keller Williams is effective immediately. The business center is located at 6120 Hellyer Avenue Suite 100 San Jose, CA 95138. The main office location will be announced soon. To contact Matt Johnston, call 805-455-6131 or email mjohnston@kw.com.
About Keller Williams Realty, Inc.:
Keller Williams Realty, Inc. is the largest real estate franchise company in North America, with approximately 700 offices and 107,000 associates in more than a dozen countries around the world. The company has grown exponentially since the opening of the first Keller Williams Realty office in 1983, and continues to cultivate an agent-centric, education-based, technology-driven culture that rewards associates as stakeholders. The company also provides specialized agents in luxury homes and commercial real estate properties. For more information or to search for homes for sale visit Keller Williams Realty online at (www.kw.com). For more information about Keller Williams Worldwide, please visit (www.kwworldwide.com).
Contact
KW Silicon City
Matt Johnston
805-455-6131
kw.com

Contact