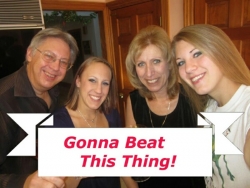 Lemont, IL, January 12, 2015 --(
PR.com
)-- Gonna BEAT This Thing is a YES (www.beatlivertumors.org) awareness campaign created to help bring attention and increase support and information for those touched by advanced cancer. There is much discussion about prevention and early detection of cancer yet little conversation surrounding cancer that has spread from the original site, or is considered advanced or terminal cancer. "Gonna BEAT This Thing" was created to change the negative stigma of dying from cancer to living with cancer.
Lemont, Illinois resident Sue Susz, who is a registered nurse herself, married with two lovely daughters is living with advanced cancer and amazes everyone she meets. In late 2009, while recovering from an unrelated surgery, Sue felt that something wasn't healing properly. Further testing followed. When the doctors who she worked with were in tears as they came to give her the results, she knew the news was not good.
This non-smoking, non-drinking and otherwise healthy 49 year old was totally shocked to learn that she had colon cancer. She had no family history and no symptoms yet was diagnosed with stage IV colorectal cancer that had already spread to the liver and lungs. Sue was ready to start a bucket list, but thankfully, was fortunate to find the needed support and resources to give her hope and support.
During the past six years Sue has been treated with numerous chemotherapy and biologic treatments including 5-FU, Leucovorin, Irinotecan (FOLFIRI), Oxaliplatin (FOLFOX), Avastin, and Erbitux by her medical oncologist, Dr. Elyse Schneiderman from Illinois Cancer Specialists. As tumors in her liver continued to grow the interventional radiologist on her team, Dr. Frank Facchini from Vascular and Interventional Radiology Chicago, introduced Sue to liver directed therapy. She underwent radioembolization treatments using radioactive microspheres called SIR-Spheres, radio-frequency ablation, and recently transarterial chemoembolization (TACE).
Sue has been able to manage terminal cancer as a chronic condition because of continuous improvements in cancer treatments. That fact, along with the support of all her family and friends and continuous generosity, plus numerous survivors of 3, 5, 8 and even 15 years she has met who are all living a full life, she knows she is not alone in this battle and there is always hope; She even named her dog Hope. She watched one daughter get married this past summer and with wedding plans in force, she will soon celebrate another daughter's wedding.
No cancer is easy. There is not yet a cure. "So when cancer spreads, the patient is thrust into the fight of their lives for themselves and those they love. Many patients don't have a team of physicians like Sue had. They don't receive or learn of the necessary resources, information and support to make informed decisions," says co-founder, Suzanne Lindley. Patients and their families feel isolated and alone, without the support necessary to help prepare them for the steps ahead. As treatment options for advanced cancers expand, quality of life improves, and the overall survival rate increases; access to information and support is imperative.
Over the summer, Clay Thrash, a rising country singer/songwriter, became involved with YES and was asked to write a song entitled "Gonna BEAT This Thing" and become a spokesperson for YES. He took the four words, the stories of numerous survivors, and his personal family journey with cancer and was able to pen a song that warms the hearts, brings a tear, and inspires many a cancer patient and their family.
With Clay's song in the background, survivor stories like Sue's come to life and bring a concentrated focus to the importance of awareness and support for those affected by advanced cancer. This campaign shares powerful voices of survivors and helps provide light in the darkness of advanced cancer. The stories you will watch, hear, and see offer inspiration, support, and hope. The information you will discover provides resources, direction, and self-empowerment.
Losing 1500 lives every day to a disease that has long been a national priority is unacceptable. With your help, there is hope. The campaign will bring major progress in the fight against advanced cancer with increased access to care, greater availability of resources, and improved breadth of support. Together, we are "Gonna BEAT This Thing!"