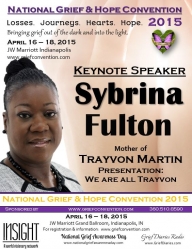 Indianapolis, IN, January 14, 2015 --(
PR.com
)-- Lynda Cheldelin Fell faced every parent's worst nightmare when her teen daughter was killed in a car accident in 2009. She first poured her grief into a blog, then a book, then a radio show, film production, and now the first annual National Grief & Hope Convention, offering an influential roster of world visionaries and speakers who will share their personal journey to help raise grief awareness and education.
Scheduled at the JW Marriott Indianapolis' Grand Ballroom on April 16 – 18, 2015, the convention is open to the public and will include exhibitors, awards ceremony, award winning entertainment, and a World Visionary Dinner hosted by Cheldelin Fell and Dr. Ken Druck, an international expert on resilience and healing after loss.
"Loss comes in many forms and is an inevitable part of life, yet the aftermath of loss remains poorly understood. The convention is at the forefront of a movement working to update old myths, and lay a better foundation for understanding and supporting grievers for generations to come," states Cheldelin Fell. "Our nation is facing new and daunting challenges when it comes to dealing with life's many losses. So are we, as individuals. The need to upgrade our "grief literacy" operating systems and software is crucial," states Dr. Druck.
Open to everyone, registration, exhibitors, and sponsor information can be found at
www.griefconvention.com
. The National Grief & Hope Convention 2015 speakers include:
· Dr. Bernice A. King, daughter of Dr. Martin Luther King and Coretta Scott King
· Sybrina Fulton, mother of Trayvon Martin
· Pastor Todd Burpo, father of Colton Burpo's Heaven is for Real
· Lynda Cheldelin Fell, TV/Radio producer and international bestselling author
· Madonna Badger, ad agency owner who lost parents and three daughters in Christmas day fire
· Dr. Ken Druck, national award winning resiliency expert and author of The Real Rules of Life
· Benjamin Scott Allen, bestselling author of "Out of the Ashes"
· Tanya Brown, youngest sister of Nicole Brown Simpson
· Angie Cartwright, founder of National Grief Awareness Day
· Beth Nielsen Chapman, Grammy nominee and award winning songwriter
· Christine Duminiak, author, radio host, and certified grief recovery specialist
· Richard Leigh, Grammy award winning songwriter of over ten #1 hits, orphaned at young age
· Christina Rasmussen, White House and Huffington Post blogger and bestselling author of "Second Firsts"
· Carol Scibelli, award winning comedian playwright, and author of "Poor Widow Me"
· Lisa Williams, TV host, world renowned psychic medium, speaker & teacher