BankInfoSecurity.com and CUInfoSecurity.com Now Offer More Features, Easier Navigation, New Look
The Information Security Media Group, Corp.(ISMG) today announced the launch of its two redesigned websites, www.BankInfoSecurity.com and www.CUInfoSecurity.com.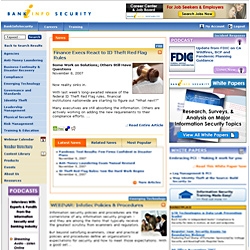 Princeton, NJ, November 13, 2007 --(
PR.com
)-- The redesign offers easier navigation throughout the sites and access to even more information on topics, events and regulations that affect financial institutions.
"Ever since we began we've constantly looked for ways to offer more information in easy-to-access formats for our registered users," explained Information Security Media Group's Editorial Director Tom Field. "This new design is geared to help our users get the information they want and need faster than before, and they'll also be able to save and organize it."
New Topic-Driven Navigation
The newly redesigned websites include category-driven navigation, making it easy to look up all the information on topics such as risk management, compliance, identity theft, and emerging technologies.
My Briefcase Feature
A new feature called "My Briefcase" allows users to easily save, store, and send content from the site. A briefcase icon is next to the title of any article, agency alert, white paper, webinar, and podcast that can be saved to the briefcase for later reference or to share with co-workers or peers.
Agencies Section
The sites also offer all agency-specific guidance and news releases under the Agency section (http://www.bankinfosecurity.com/category.php?catID=11.) Governing bodies such as the FDIC, OCC, OTS, NCUA and FFIEC release guidance and regulations on information security topics (specifically directed toward financial institutions), and ISMG's websites help the information security community interpret and incorporate these constructive hurdles into their plans and budgets effectively.
Corporate Membership
Another new feature is the corporate membership option for webinar attendees. With the corporate membership, users can attend unlimited webinars during the year and also easily track CPE credits. (https://www.bankinfosecurity.com/checkoutMemberships.php) ISMG's webinars focus on topics such as identity theft, penetration testing, IT audits, strong authentication, and business continuity planning. These webinars are hosted by experts in the financial services information security industry who truly understand the mindset and needs of the banking community.
Career Center & Job Board
Recent updates to ISMG's Career Center and Job Board (http://careers.bankinfosecurity.com) have been well received by users. The Career Center offers information and job leads for job seekers, as well as articles for information security professionals who want to keep their skill sets sharp. Interviews with leading information security professionals offer readers the insight of their peers as to security leadership and changing career paths in information security in the industry.
Training & Awareness Portal
Another addition to ISMG's sites is a portal for information security awareness training (http://www.bankinfosecurity.com/training.php) that offers banks and credit unions the "best-of-breed" training and education programs that they needs for their staff. This training coursework is based on first-hand knowledge of information security shortcomings at financial institutions.
Refined Search Engine
Search capabilities on the sites have been refined, making it easy to find all of the information on topics such as vendor management, data loss prevention, and IT audit. The refined search capabilities will make it easier for users to research the most current news articles, information security-related regulations, white papers, industry events, webinars, and other educational resources, all dedicated to the financial services information security community.
"The redesigned websites offer our registered users critical information they need to better secure their institutions. We recognize the information we offer our users is especially useful and gives them the best tools to meet the information security requirements required by state and federal regulatory agencies," concluded Field.
For more information on any of the new features, go to the revamped websites now:
www.BankInfoSecurity.com
www.CUInfoSecurity.com
###
Contact
BankInfoSecurity.com
Linda McGlasson
609-356-1499
www.bankinfosecurity.com

Contact