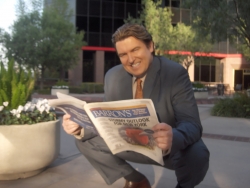 Los Angeles, CA, February 04, 2015 --(
PR.com
)-- Robert Maltbie, President of Singular Research announces the release of New Macro Market Indicators (MMI) January 2015 Report - "Drops into Negative Territory giving Rise to Cautious Market Outlook."
Singular Research Major Market Indicators fell into the bearish range to 49.00 from 57.33. The S&P 500 index gained 1.6% this past week to 2051.82, while the NASDAQ rose 2.7% to 4758.88 and the Dow Jones Industrials added 0.9% to 17672.60. Below, the weekly graph of their Major Market Indicators shows the trend over the last few months. The net change in score came from a decrease in the liquidity, valuation and earnings momentum indicators, offset by an increase in the technical indicators.
The MMI report provides a summation of an extremely broad data sweep of important indicators that impact such market influencing variables such as technical, sentiment, valuation, liquidity, eps momentum, and monetary policy and yield curves. "It is as broad based and scientific as any macro approach to US Markets currently available weighting data inputs for over a hundred diverse surveys to help mangers navigate market risks and volatility," said Maltbie.
The MMI helped Singular Research largely avoid the carnage of 2008 and most recently gave a bearish call Sept 22, prior to a 10% drop in Singular Research's major Equity markets.
Singular Research Major Market Indicators (MMI) analysis weighs a large number of factors impacting the domestic equities market, gauging the temperature of the market. The MMI is a yardstick which measures whether Singular Research should be more bullish, or neutral, or bearish.
Rather than rely on anecdotes, or just one or two rules of thumb, Singular Research scours the investment landscape, scoring the indicators Singular Research's believes are most representative of influencing the near to mid-term outcome of the market. Singular Research weigh and total Singular Research scores, producing a composite total to guide our investment posture.
The Following is an excerpt of the Sept 22 MMI report:
MMI Falls into Bearish Territory due to the Huge Alibaba IPO:
"Singular Research Major market Indicators fell in the week ended September 19th. The MMI indicators fell to 43.00 from 59.83 last week, a Bearish reading, due to the liquidity impact of Alibaba." Technical indicators turned bearish, as the score fell for the third consecutive week.
The equal-weighted Russell 2000 ETF (EWRS) ended the week below its 200 day moving average, accounting for the change in this segment of the MMI for the week. Technical indicators scored six out of a total possible score of 15 bullish indicators, versus eight in the prior week, enough for the total category to turn bearish.
For a current complimentary MMI report please contact:
Tom Kill
VP Institutional Sales
Singular Research
Email: tom@singularresearch.com
Phone # 626-405-0242
Singular Research, based in LA and NY, is one of the most trusted providers of unbiased, performance-based research on small and micro-cap companies to fund managers. Singular provides initiation reports and quarterly updates for approximately 60 companies. In many cases, Singular's analysts research companies that are not often covered by any other firms.
For further inquiries. Send an email with your name, title, outlet and link to articles or coverage to Robert Maltbie Jr. Robert@singularresearch.com