Teleperformance U.S.A Expanding in Port Saint Lucie, Florida: Creating 200 New Jobs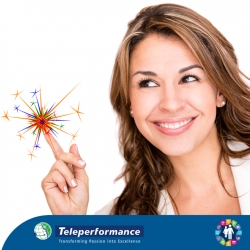 Port Saint Lucie, FL, February 19, 2015 --(
PR.com
)-- Teleperformance, the global leader in outsourced multichannel customer experience management, recently announced that it will be expanding its employee base in Port Saint Lucie, Florida bringing 200 jobs to the Port Saint Lucie area.
"Our clients see Port Saint Lucie as a great place for customer service and support," says Teleperformance U.S.A. President of Operational Delivery, Miranda Collard. "They recognize the area's deep and longstanding ties to the state of Florida as well as the diversity, talent, and education of the community. Port Saint Lucie offers a unique advantage to employers like Teleperformance because of the strength of the community and the incredible work ethic of the people."
The contact center in Port Saint Lucie has begun accepting applications for this expansion and are looking for customer service/sales experienced employees and is hosting a Career Fair this Saturday 2-21-2015 from 9am to 4pm at 580 NW University Blvd, encouraging anyone interested to stop in and meet with the Recruiting Team. New employees will provide support for a financial services company that sells a variety of products and services, the company provides training and new employees can earn up to $20 an hour with sales and pay for performance incentives.
"These new positions are more than just a job, these are career opportunities," says Jim Phillips, Vice President of Recruiting who is a 18 year veteran with the company.
Teleperformance currently employs more than 30,000 people nationwide and over 3000 employees in the state of Florida. Contact center positions available at Teleperformance include, but are not limited to, Customer Service Representatives, Trainers, Quality Assurance Personnel, and various leadership and client management positions. Those interested in applying for a job may do so at:
www.teleperformance.com
.
About Teleperformance Group
Teleperformance, the worldwide leader in outsourced multichannel customer experience management, serves companies around the world with customer care, technical support, customer acquisitions and debt collection programs. In 2013, it reports consolidated revenue of €2,433 million ($3,236 million, based on €1 = $1.33).
The Group operates around 110,000 computerized workstations, with close to 175,000 employees across 230 contact centers in 62 countries and serving more than 150 markets. It manages programs in 63 languages and dialects on behalf of major international companies operating in a wide variety of industries.
Teleperformance shares are traded on the NYSE Euronext Paris market, Compartment A, and are eligible for the deferred settlement service. Teleperformance is included in the following indices: SBF 120, STOXX 600 and France CAC Mid & Small. Symbol: RCF - ISIN: FR0000051807 - Reuters: ROCH.PA - Bloomberg: RCF FP
Media Contact: Jim Phillips
Phone: (801) 366-1743
Email: Jim.Phillips@teleperformance.com
Contact
Teleperformance
Jim Phillips
801-366-1743
teleperformance.com

Contact