Local Palm Beach Real Estate Professional Speaks at International Luxury Real Estate Event
Kevin M. Leonard, Founder of Valore Group in Palm Beach and Director of Keyes Luxury presented at the Luxury Portfolio SUMMIT, February 9-11 at Wynn Las Vegas. This invitation-only event was hosted by Luxury Portfolio International®, the luxury face of Leading Real Estate Companies of the World®.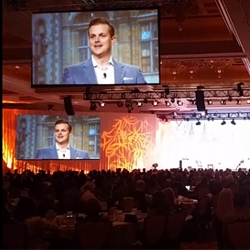 Palm Beach, FL, February 27, 2015 --(
PR.com
)-- With a theme of "Living Luxury," SUMMIT offered participants the opportunity to explore how lifestyle passions drive today's affluent consumers and impact their lives and their real estate decisions. Sessions offered in-depth information to help participants to better understand and serve real estate clients in an increasingly global and mobile world. Specific market segments, from Chinese consumers to Millennial buyers, were examined. Some of the world's most admired luxury brands were studied as examples for reaching today's connected consumers through experiential and emotional marketing.
Leonard was among a notable line-up of speakers, which included Marci Rossell, former chief economist for CNBC, who addressed the global economy; social scientist and author Eric Klinenberg, who focused on how the rise of singletons is changing business; and Shawn Achor, the world's leading expert on the connection between happiness and success, who explained the scientific link between being positive and being successful. Concluding the event was an address from Rudy Giuliani, celebrated by many as "Mayor of the World," who offered insights on "Principled Leadership in the Face of Crisis and Change."
Leonard spoke on what today's luxury clientele are looking for, particularly as it relates to their experience with a property, how to establish credibility with clients, how to use storytelling as part of his marketing strategy and his history, how he got into the business, and the Palm Beach Real Estate market.
"I enjoyed sharing insights and analogies comparing Porsche, Ferrari and Bentley to the real estate business," said Leonard.
"We are so thankful for the generous contributions of our member speakers, who, by so generously sharing their insights and expertise, help us foster a spirit of collaboration and innovation as we work together to market some of the world's most extraordinary residences," said Stephanie Pfeffer Anton, executive vice president of Luxury Portfolio.
Affiliates of Luxury Portfolio market high-end homes to affluent consumers worldwide through the network's strategic marketing program, including the award-winning website www.LuxuryPortfolio.com, which markets over 25,000 luxury homes to over three million high-net-worth visitors annually and features a total inventory of available properties totaling over $44 billion.
For more information about Valore Group and Kevin M. Leonard, please visit
KevinMLeonard.com
and ValoreGroup.com
Valore Group Real Estate is the luxury division of the Keyes Company, the largest Real Estate Company in Florida. The family owned company historically exceeds over $3.4 Billion of Annual Sales Volume in South Florida. As a founding member and shareholder of Leading Real Estate Companies of the World® and Luxury Portfolio International™ our network consistently achieves over $314 Billion per year in sales globally. As the largest and oldest Real Estate firm in Florida we boast roots that trace back to 1926; The Keyes Company is a legend in the Florida Real Estate market.
Contact
Valore Group Palm Beach Real Estate
Kevin M. Leonard
561.655.8222
www.ValoreGroup.com

Contact