The Charon Covenant Explodes on to the World of Science Fiction Books
With the use of clones and drones, aliens are slowly taking over a human society that has relocated to the Moon after Earth was abandoned (due to an environmental meltdown and war). What can a handful of renegade humans do once they uncover the scary truth about what's really happening to the remaining strands of civilization?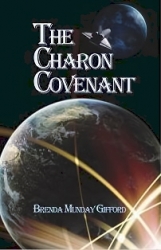 Phoenix, AZ, November 16, 2007 --(
PR.com
)-- Brenda Munday Gifford explodes on the literary scene with her debut science-fiction novel that paints a frightening fate for humans if they continue to environmentally degrade the planet and resort to war to fight over the scarce remaining crumbs of resources.
The Charon Covenant explores what a new society of humans, relocated to the moon (known as Earth II) would look like and shows how even if humans don't destroy each other from within that there's an alien force eager to subjugate us. The vital question posed here is: What would you do if you discovered you couldn't trust your government, your neighbor, or your own brother as you accidentally uncover an ugly truth that turns your world upside down? What if saving humanity were in your hands – just what would you be willing to risk or do?
See more at
www.thecharoncovenant.com
###
Contact
Brenda Munday Gifford
602-757-1434
www.thecharoncovenant.com

Contact